Quest for the Cup: Low scoring, high intensity with Blues-Kings
Getting you set for Monday's Stanley Cup playoffs action where the Kings and Blues meet once again in a pivotal Game 4.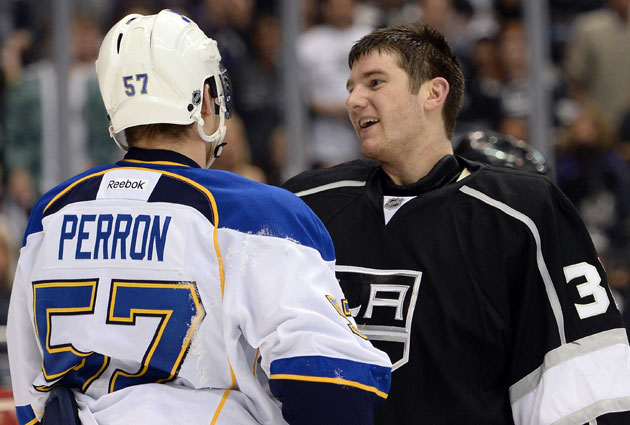 More NHL: Scores | Standings | Odds | Fight-O-Meter | League Leaders | Rumors
First star game of the day


Game 4 (2-1 STL), St. Louis at Los Angeles, 10 ET (NBCSN): In three games these teams have combined for seven goals. Don't let that fool you, these games have been great.
The Blues looked strong again in Game 3 even if they didn't get the win, they just couldn't figure out a way to beat Jonathan Quick. The Kings didn't look bad themselves but they were playing the third period in a position of just holding onto a tenuous 1-0 lead, which they did. It led some to suggest that this was a last-gasp effort from the Kings and the Blues were going to soon take a stranglehold.
I'm not so sure about that. It's certainly a possibility in Game 4 that the Blues once again exert some level of dominance, but I wouldn't count the Kings out by any stretch. The big problem all year was that Quick was struggling, the offense was fine. It's reversed here in the playoffs and the Blues deserve a ton of credit for LA's offensive woes.
This is the pivotal swing game. If the Blues are able to come out, continue to punish the Kings with their forecheck and get the win, they would have three chances to close the series out, two on home ice. If LA wins then we could very easily be staring at a seven-game series. With two Cup contenders, that would be a treat.
Second star game of the day


Game 3 (1-1), Boston at Toronto, 7 ET (NHL Network): Welcome back to playoff hockey, Toronto. For the first time in nine years, hockey-mad Toronto will host a postseason game. The Air Canada Centre promises to be rocking.
More important than that, though, is that the Leafs return with a series on our hands. Many, myself included, didn't foresee the Leafs giving the Bruins too much trouble but they handled the B's with ease in Game 2. It's still early in the series but the Leafs obviously have plenty of hope.
Plus, with the series shifting to Toronto that means the Leafs will have the last chance. It's going to be interesting to see how Randy Carlyle works with that because the Maple Leafs coach deserves a lot of credit for how he was able to get Phil Kessel away from Zdeno Chara at times in Game 2 and that was when he didn't have the last change.
In the meantime, the Bruins would really like it if they could get some offensive production from the third line, Jaromir Jagr's line.
Third star game of the day


Game 3 (WAS 2-0), Washington at NY Rangers, 7:30 ET (NBCSN): Good news for the Rangers: Courtesy of Ted Starkey, the Capitals have never won Game 3 in a best-of-7 series when leading 2-0. This is a best-of-7 series and the Caps lead 2-0. History is on the Rangers' side.
If they want to actually fulfill that destiny they will have to find a way to generate some offense. Braden Holtby has been spectacular in net for Washington, giving up just one goal in two games in DC. Being in New York is going to help them out a lot but it's not going to be the cure-all.
The first two games were pretty even, really, both entertaining games. There were stretches in the games where each team had some dominant runs, but as a whole they were not lopsided in either direction. Washington was just able to get the key goals the Rangers couldn't get.
As the old cliché goes, it's not a series until somebody loses on home ice. That's the hope for the Rangers as the series returns to MSG. Problem is, if they lose on home ice we probably won't have a series, the Caps will have four chances to win one game.
Honorable mention


Game 4 (ANA 2-1), Anaheim at Detroit, 8 ET (CNBC): There is no way that the Red Wings don't come out with a big response to that 4-0 Game 3 loss on home ice, is there? Justin Abdelkader's loss will be felt but it should not be crippling.
It must have been a big relief for Ducks fans to see a shutout for Jonas Hiller in Game 3. If he can be a little better than he's been this season, the Ducks are closer to realizing some scary potential.
Snap shots
•  Tyler Seguin doesn't want to focus on anything but the playoffs right now, so he's off Twitter for the time being. (CSNNE)
•  The Rangers could get Ryane Clowe back for Game 3 Monday night. He has been out with what is suspected to be a concussion. (Bergen Record)
•  Interesting quote from Joe Thornton after San Jose's 5-2 win on Sunday: "We felt Lou was playing great. We felt we were lucky not to play against Lou, to be honest." (CSN Bay Area)
•  Former NHLer Bates Battaglia and hockey-playing brother Anthony won the Amazing Race this season, winning the final lag in Washington DC that was aired on CBS on Sunday night to take the $1 million prize. (Chicago Sun-Times)
•  NHL officials will reportedly meet with prospective Coyotes buyers this week and start working on a lease agreement with the city of Glendale. (Fox Sports Arizona)
Five for Fighting
Every day, we'll have a top-five list that is pretty self-explanatory, all in this man's opinion. Today: Top coaches in the Stanley Cup playoffs.
No. 5, Paul MacLean: He has shown over the last two seasons now that he really can coach. The injuries he has dealt with and yet the team has made the playoffs both times.
No. 4, Mike Babcock: Babcock is one of the most well-respected coaches in the game. It hasn't been a perfect season for his team, but the Wings remain in good hands.
No. 3, Joel Quenneville: It would be easy to say that "anybody could coach this team" but Quenneville does his job well. He had made due without a lot of center depth.
No. 2, Darryl Sutter: When he's not in barns back in Alberta, Sutter is commanding successful teams. The Kings have played a much more polished/disciplined game since he came on.
No. 1, Ken Hitchcock: No coach is more identified with an ability to bring his system to a team in the NHL right now than Hitch. People go right to him sitting in a defensive shell but the way the Blues forecheck is very impressive.
Washington, Nashville and Tampa Bay are still rolling with winning streaks atop the NHL

Saturday's showdown will serve as a rematch of one of the NHL's first-ever regular season...

Stacia Robitaille says Donald Trump told her in an elevator that she was coming home with...
Vladislav Yeryomenko was the Teddy Bear Toss goal scorer for the Calgary Hitmen

The Golden Knights are finally getting their No. 1 goalie back after a 25-game absence

Washington has won four straight, and the Kings are also on a tear right behind the Lightn...