Quest for the Cup: Pens try Vokoun vs. Isles, Ovi disconnected GIF
The Penguins face the Isles back in Pittsburgh with a new goalie, and Alex Ovechkin's 'backchecking' makes for a perfect GIF.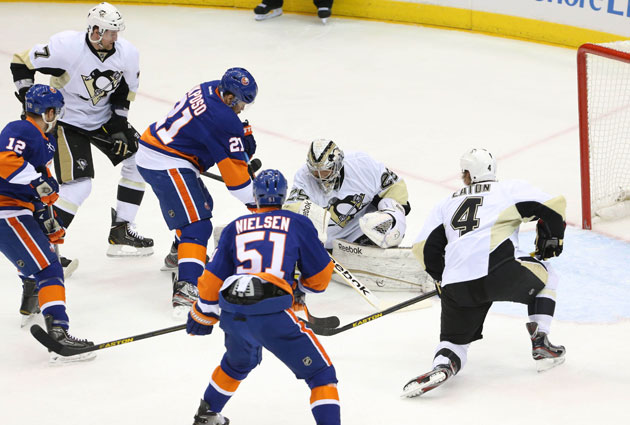 More NHL: Scores | Standings | Odds | Fight-O-Meter | League Leaders | Rumors
First star game of the day


Game 5 (tied 2-2), NY Islanders at Pittsburgh, 7 p.m. ET (NBCSN): Move over Marc-Andre Fleury. It's Tomas Vokoun's time.
The Penguins, who spoke to the media on Wednesday, made something very clear; they knew the Islanders weren't going to make for an easy first-round opponent. They didn't buy into the notions of them cruising. That said, they probably didn't think it would be this tough, either.
Credit where it's due, the Islanders have played a very strong series outside of Game 1. They definitely still have issues in their own zone, but they have done an excellent job playing how they want to, dictating the action for much of the time. It's just tough to look at the Penguins and see the overwhelming talent that they have and expect more. That's why they cut the cord on Fleury and will try Vokoun, seeing if that will be the difference.
It will be an interesting test case in Game 5. The defense in front of Fleury has certainly not been without fault, either. How much exactly was on the D vs. Fleury could be answered with Vokoun. Or he could struggle just the same. Whatever the answer to that is, the last line of defense is once again threatening to be their undoing.
The play of Fleury has overshadowed the play in the Isles' net of Evgeni Nabokov, who has been almost as bad as Fleury and yet they're still in this.
This series has been a swinging gate of emotions and momentum. Not just from game to game but within the games. No lead is safe, and it seems like every shot could go on. It makes for some really fun viewing as a hockey fan but probably some very nervous watching for fans of these teams.
Second star game of the day


Game 5 (OTT 3-1), Ottawa at Montreal, 7 p.m. ET (CNBC): The first three games were marked by the physical edge and fighting, but Game 4 was mostly about the hockey. And the controversial calls.
The Senators were able to claw back from a 2-0 third-period deficit to force overtime in the final minute and won for the 3-1 lead. Those few minutes swung the series on its head. What was shaping up to be a 2-2 series is now a commanding lead for Ottawa.
Making matters worse for the Canadiens is that the injury bug is starting to strike. Brian Gionta is finished for however much longer the season goes, and Carey Price is done as well. Things are indeed shaping up well for the Sens, but home ice could be what sets the Habs straight again.
Third star game of the day


Game 5 (CHI 3-1), Minnesota at Chicago, 9:30 p.m. ET (NBCSN): The Blackhawks return to home ice with a chance to finish off the Wild: that sort of feels like fait accompli, doesn't it? After Game 4 in Minnesota, it's hard not to feel this is all but done.
The Blackhawks got back to controlling the game and really limiting Minnesota's chances, whether it be by blocking shots or hounding pressure, forcing shots wide and not in scoring areas. Of course, it led to a shutout to take this series to the brink for Minnesota.
We have seen the Wild play well in Chicago in this series, so I guess I shouldn't write them off completely at this point, but they're going to need a big bounce-back game. Their resiliency will be tested, as will Chicago's finishing instinct.
Snap shots
•  Pavel Datsyuk's future has become a popular subject lately, but he has only focused on enjoying this playoff push as the Wings near elimination. (Detroit Free Press)
•  Jarome Iginla, ever an optimist, isn't getting down about the Penguins' struggles in this series. (Penguins)
•  Derick Brassard is having himself a nice little series for the Rangers, earning himself a positive reputation in his new city. (Sporting News)
•  The Capitals didn't really show the effort needed in Game 4. Alex Ovechkin knows they need to play better, especially his top line. (Washington Post)
•  He could start by backchecking a little harder so they don't make GIFs mocking his lack of effort.
Five for Fighting
Every day, we'll have a top-five list that is pretty self-explanatory, all in this man's opinion. Today: Worst current goalie situations in the playoffs.
No. 5: Toronto. James Reimer was the reason they got here, perhaps more than anybody else, but he hasn't had the best of playoffs. I guess I see why they were still interested in an upgrade, but he'll be good in the long run.
No. 4: Pittsburgh. Yes, it's concerning how Fleury has struggled so much in the playoffs once again. Fortunately for them, they have Vokoun to turn to. But even if he does well, the situation only gets more complicated.
No. 3: N.Y. Islanders. Nabokov had such little support this season behind him that he was forced to play nearly every game. I don't think it's fatigue that's hitting him now, but they don't have the luxury of going to a proven backup.
No. 2: Montreal. Now that Price is finished with his lower-body injury, the Habs are in real trouble. Peter Budaj doesn't inspire tons of confidence.
No. 1: Minnesota. Nicklas Backstrom hasn't played in this series, Josh Harding has filled in well, but he got dinged up, meaning Darcy Kuemper has played some. This is not an enviable situation for the Wild, especially when playing Chicago.
The former Boston Bruin was the first black player to play in the NHL

Inclement weather led to the Charlotte Checkers and Bridgeport Sound Tigers playing in front...

The NHL chose the Detroit rocker as its All-Star Game entertainment and not everyone is th...
NHL fans from all over seem to agree on one thing: Hating Kid Rock

The team tweeted on Monday that Shaw would be re-evaluated in 7-10 days

The Montreal forward was hospitalized after taking a Zdeno Chara slap shot to the head