Quest for the Cup: Senators look to capitalize on Game 3 comeback
The Penguins visit the Senators in the only game on Wednesday night, a crucial game for the Sens on home ice.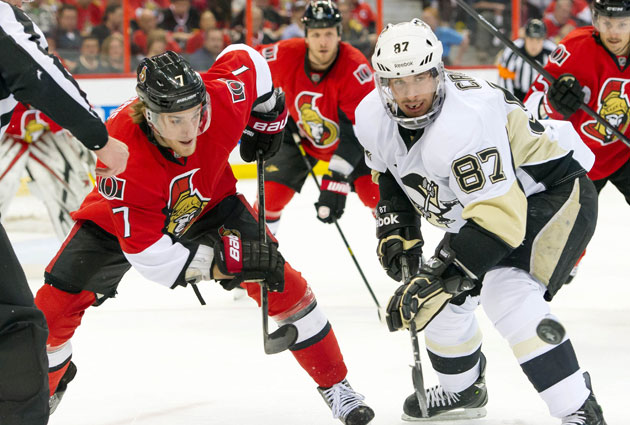 More NHL: Scores | Standings | Odds | Fight-O-Meter | League Leaders | Rumors
First star game of the day
Game 4 (PIT 2-1), Ottawa at Pittsburgh, 7:30 ET (NBCSN):


It's not as if there is another choice for the best game of the night -- but not like this will be a bad one anyway.
The Senators are coming off easily their best game of the series so far in Game 3, and even then they needed double overtime to pull out a win over the Penguins after some late-game dramatics. But I'll be if that game as a whole, even if it was just a 2-1 final in almost 90 minutes of action, wasn't one of the best of the playoffs so far.
Undoubtedly Game 3 was exactly what the Senators needed, and not just because they won it. They were able to return to the type of game that made them successful this season all while getting another big piece to the puzzle back in Jason Spezza. You look at them and say you'd like to see more offense, but a return to a great penalty kill and a good job defending is almost as welcome.
Now they have their confidence back. While it's not in the Senators -- or any team, I believe -- to all out give up hope, the comeback that they delivered in Game 3 was so big for their psyche beyond just the fact of this being a 2-1 series vs. a 3-0 series. Playing that overtime when the Penguins turned it back on, the Sens played with them. With both teams playing well, the Senators got the better of Pittsburgh. For an underdog you need something like that, the belief and confidence you can do this.
That's true too for Craig Anderson. He had a very rough start to the series in Pittsburgh, even getting pulled in Game 2, but he was fantastic for the Senators, something that's required for them if they stand a chance. As we all know, the Penguins have excellent talent and can create great opportunities, but Anderson was up to the task and more. Ottawa needs an encore, and based on the season he has had, he should be capable of giving it to them.
On the other side of the ledger, it would be fair to criticize the Penguins for having taken their foot off the gas. They had a power play that was going to carry over through the end of regulation, and if they showed just a little bit of an attacking approach, that Daniel Alfredsson goal doesn't happen and we're talking about a potential sweep in Ottawa tonight. I would be willing the Penguins won't make that same mistake again. Whatever happened to the best defense is a good offense approach?
The bread and butter for the Penguins is and will remain offense. When you have the types of guys they do on the top three lines, you really can't have any different approach anyway. So they have to stick with that bread and butter; you don't try to transform into a defensive team in one game. Or at least in one period of one game. Tomas Vokoun was again more than solid but it's just best not to play with fire if you can help it.
It goes without saying that Game 4 is crucial. Really, there is no such thing as a non-crucial playoff game (though Game 4 in a 3-0 series is pretty close). But it feels especially important for the Senators, imperative that they must take this one. If they don't, would anybody in the world like their chances of winning three straight from the Penguins with two in Pittsburgh?
If the Sens played their best game of the series in Game 3 they're going to need to set a new standard for Game 4 because I have a feeling the Penguins won't sit back so much this time around.
Snap shots
•  What would a playoff series be without some verbal jabs? And no, it's not Erik Karlsson or Matt Cooke but Chris Neil talking about Brooks Oprik. Specifically a hit in Game 3 Neil didn't like at all. Orpik laughed considering the source. (Ottawa Sun)
•  Who likes to be the guy trying to defend Sidney Crosby? Actually, Sens defenseman Marc Methot does. (Pittsburgh Post-Gazette)
•  The Rangers lost again on Tuesday night, putting them one loss from the offseason and putting a greater spotlight on Brad Richards and what the summer holds for him. (CBS New York)
•  I just love this: The 20 types of depressed sports fans. I think I qualify for about six or seven of them. (Grantland)
•  Jonathan Toews continues to struggle in terms of offense with zero goals this postseason, but he's not getting down. (Toronto Sun)
The expansion Golden Knights officially moved into first place in the NHL on Sunday

The former Boston Bruin was the first black player to play in the NHL

Inclement weather led to the Charlotte Checkers and Bridgeport Sound Tigers playing in front...
The NHL chose the Detroit rocker as its All-Star Game entertainment and not everyone is th...

NHL fans from all over seem to agree on one thing: Hating Kid Rock

The team tweeted on Monday that Shaw would be re-evaluated in 7-10 days