Quest for the Cup: Sharks have to figure out Quick soon
The San Jose Sharks will try to find a way to beat Jonathan Quick in their second game against LA. Meanwhile, Boston and New York begin.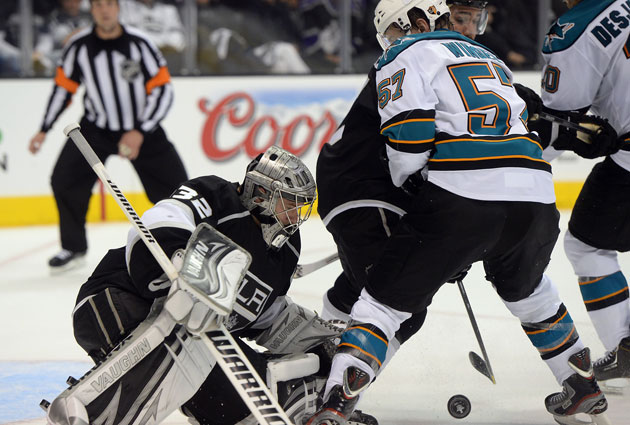 More NHL: Scores | Standings | Odds | Fight-O-Meter | League Leaders | Rumors
First star game of the day


Game 2 (LA 1-0), San Jose at Los Angeles, 10 p.m. ET (NBCSN): It only took one game, but the bad blood is starting to take over. That's what Raffi Torres can do to a playoff series.
The Sharks will be without Torres for Game 2 as he is across the continent in New York to have a hearing with the NHL for his hit on Jarret Stoll in Game 1. Stoll will be out of the lineup for LA as a result of the hit, so perhaps that's only fair.
More important to the actual series than any rivalry, though, are the things that will impact the game. In this case, nobody is going to have a bigger impact than the goaltenders if Game 1 was any indication. The Kings have won five games in a row this postseason, and it's not like they've been lighting the lamp so much to burn it out. Jonathan Quick is back to playing like the elite goalie he was all of last season and especially in the playoffs. Not that Antti Niemi is too shabby, either, for the Sharks.
What San Jose must focus on in this game is finding a way to get better scoring chances. Perhaps that's simply by drawing penalties to get that power-play unit that was so strong in round one on the ice. The Sharks somehow have to get quality chances vs. Quick because he will have little trouble stopping point shots all day. Getting shots wasn't necessarily a problem in Game 1, but getting quality shots was.
Despite the Game 1 loss, the Sharks still have their goal within sight -- to split the first two road games of the series. Getting Game 2 will not be easy, though; the Kings have been nearly invincible in LA for weeks. They have 11 straight wins on home ice, last losing at Staples on March 23.
Second star game of the day


Game 1, NY Rangers at Boston, 7:30 p.m. ET (NBCSN): It's going to be interesting to see how this series begins because right now it's so up in the air. In their most recent games, the Bruins sprung an improbable comeback to get here while the Rangers steamrolled past the Caps in a road Game 7. A few days later and with new opponents, that should all be wiped away.
The first game is all about setting the tempo in a series -- usually -- so it's going to be interesting to see what wins out in this first game. We all know how much the Rangers like to play a suffocating style, particularly in the playoffs. It's not necessarily Boston's style to try to fly up and down, but that does get the Rangers out of their flow, at least defensively. New York does have players capable of hurting you in an up-and-down game as well.
What the Rangers are most known for at this time of the year is their shot-blocking. If there is a lane to dive into to prevent a puck getting to Henrik Lundqvist, they do it, though Lundqvist is one of the best goalies in the entire world. Inquiring minds want to know how willing guys like Dan Girardi and Ryan Callahan will be to jump in front of a Zdeno Chara slap shot. Have fun with that, boys.
More immediate to the impact in Game 1 is Boston's banged-up defense. Chara is a monster back there -- but he can't play more than 30 minutes every night, can he? Probably not, and with Dennis Seidenberg, Andrew Ference and Wade Redden all banged up, there are some real questions appearing about the normally stout Bruins blue line.
If the Rangers are going to grab at least a split in Boston to open the series, it would seem like this is the game that's there for the taking before Boston begins returning to health.
Snap shots
•  Jason Spezza continues to skate back in Ottawa but he's still not joining the Senators, at least not yet. (Ottawa Sun)
•  Jaromir Jagr reflecting on his time with the Rangers: "But now it's a different story. I'm not good now. I was a lot better hockey player then, when I was in New York. Of course, I'm different. I am honest. I cannot lie." And we appreciate that about you, Jagr. (CSNNE)
•  So here's an interesting take (and by interesting I mean very, very curious): "Fleury will get another chance. He must get another chance if the Penguins are going to win the Cup." (Pittsburgh Post-Gazette)
•  Evgeni Nabokov wants to remain an Islander. It's up to GM Garth Snow. (New York Post)
•  Another free agent who wants to stay where he is is Mike Ribeiro, who wants a four- or five-year deal from the Capitals. He wants stability in his life. (Washington Times)
Five for Fighting
Every day, we'll have a top-five list that is pretty self-explanatory, all in this man's opinion. Today: The best centermen left.
No. 5: Anze Kopitar. The Kings' best all-around center has such a tough time getting more recognition because of the guys ahead of him, but he does all the things an elite centerman should.
No. 4: Pavel Datsyuk. Datsyuk can still perform moves on the ice that nobody else can. More important, though, is he's still a top defensive centerman, leading the league in takeaways this season.
No. 3: Patrice Bergeron. He is the best faceoff man in the league and proved in Game 7 that he can score, too. It was good to see him finally get the praise that he deserved last year with the Selke.
No. 2: Jonathan Toews. He's the captain of the best team in the league, is a Selke finalist and is simply put one of the league's top stars. Averaged more than a point per game this season when leading Chicago in goals.
No. 1: Sidney Crosby. Of course, he takes the top spot (and I admit partly why Evgeni Malkin isn't here is because Crosby represents the Penguins). We all know how well he can put up points, but he has really worked on his faceoffs and defense, which are always improving.
The expansion Golden Knights officially moved into first place in the NHL on Sunday

The former Boston Bruin was the first black player to play in the NHL

Inclement weather led to the Charlotte Checkers and Bridgeport Sound Tigers playing in front...
The NHL chose the Detroit rocker as its All-Star Game entertainment and not everyone is th...

NHL fans from all over seem to agree on one thing: Hating Kid Rock

The team tweeted on Monday that Shaw would be re-evaluated in 7-10 days