Quest for the Cup: Sharks look to pull even, Rangers glad to be home
Home teams are now 10-1 in the second round of the playoffs, a good sign for the Sharks and Rangers who play on Tuesday.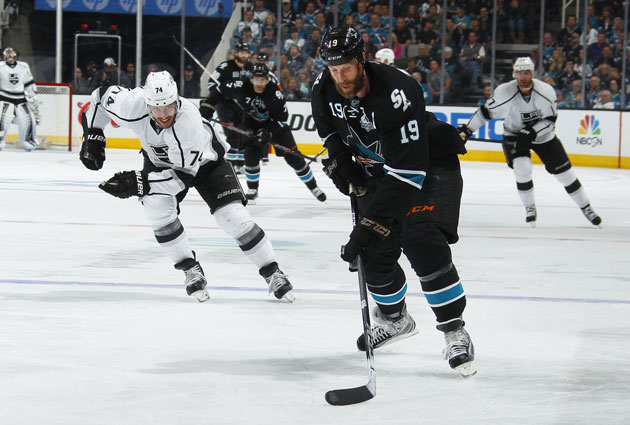 More NHL Playoffs: Scores | TV Schedule | Expert Picks | Odds | Mock Draft | Rumors
First star game of the day
Game 4 (2-1 LA), Los Angeles at San Jose, 10 ET (NBCSN):


Has this been a fun series so far or what?
We have had officiating complaints, a last minute-comeback, an overtime contest in Game 3 -- but through it all nobody has been able to win in the opposing barn, a theme across the NHL this postseason. There have been close calls, however.
Overall, the Sharks were 17-2-5 at home this season, obviously a great mark. The Kings have been bad on the road, losing nine of their last 10. In this case, something doesn't have to give, it points to a big home-ice advantage for San Jose, a game they should and almost must win.
If hockey were always fair, it would probably be the Sharks with the series lead right now over the Kings. They have been the better team. In the three previous games the Sharks have outshot the Kings 106-78, or an average of 9.33 shots per game. That's a huge disparity, even more startling when you realize that the Kings were as good a possession team as you could find in the league this season. San Jose has most certainly been the aggressor.
That has turned the Kings into a team they don't necessarily want to be, one that chases. Thing is, the Kings are capable of playing a lot of different ways, they have excellent talent at all positions and if they are going to be the team without the puck, Jonathan Quick will back them up well, he's been good this postseason. But they would like to be the team controlling things, it's when they're at their best.
Naturally the Sharks have a big role in all of that, they're the ones keeping the puck away from the Kings. Joe Thornton has been huge in the driving of play for the Sharks as Adam Gretz pointed out after Game 3.
For he and the Sharks it's about continuing to do what they've done with a strong forecheck and good passing. If they have to head back to LA down 3-1 that's asking for serious trouble considering how good the Kings have been at home.
Second star game of the day
Game 3 (2-0 BOS), Boston at NY Rangers, 7:30 ET (NBCSN):


The Rangers are staring history square in the face right now; no team has ever won back-to-back series after falling down 2-0. The Rangers did that in the first round, winning four of the final five against the Capitals. They will have to do that again.
In that first-round series, you didn't get the feeling the Rangers were far away after the first two games. John Tortorella kept emphasizing that point and he was right; the games were tight and the Rangers were just on the short end of the stick. While Game 1 in Boston was tight and needed overtime, Game 2 was not. Maybe it wasn't as big of a mismatch as the 5-2 score indicated, but they are a bit further from the Bruins right now. And the Bruins aren't the Capitals.
That's certainly not to say the Bruins don't have things to focus on. The big bug-a-boo in Game 2 that gave the Rangers some chances was their carelessness with the puck. They turned it over way too much, perhaps a product of playing with three rookie defensemen out there. They have been very good from an offensive standpoint but they are still rookies and are prone to more mistakes.
They might not all be required to play in Game 3 as Wade Redden and Dennis Seidenberg traveled with the team and are game-time decisions, but at this point it hasn't been much of a problem without them. Again, aside from those turnovers, Boston has thrived with the young defensemen getting big minutes. It has helped Boston open up its game and play at a faster, more north-south pace, something that just does not suit the Rangers' style.
The Rangers have been a different -- that is to say better -- team at Madison Square Garden and they're going to need every bit of that home-ice advantage to gain some traction in this series before it's too late.
Snap shots
•  Henrik Lundqvist gave the Rangers a scare when he appeared to injure his shoulder late in Game 2, but he says the injury is "under control." (NHL.com)
•  The Sharks are hoping to finally live up to their high expectations. Ironically, this is a season where the expectations on them were not that high. (LA Times)
•  A list of some players MIA in these playoffs. (Globe and Mail)
•  According to Darren Pang, the Predators fired assistant coach Peter Horachek. (On the Forecheck)
•  In the Memorial Cup, Portland defeated London on Monday, 6-3. (NHL.com)
The decision would likely be met by anger from some fans, but it could also make sense

Toronto shoots to the No. 1 spot, just ahead of the Chicago Blackhawks

The Penguins' standout is at it again
Gary Bettman all but reverses course from his September comments on anthem demonstrations

The 'Washington Post' says many teams have stopped booking stays at Trump-owned properties

New Jersey has the long-term promise; Vegas is nothing like an expansion pushover