Quest for the Cup: Sharks look to take 3-0 lead on Canucks
Previewing Sunday's NHL playoff games, including a huge game for the Canucks against the San Jose Sharks.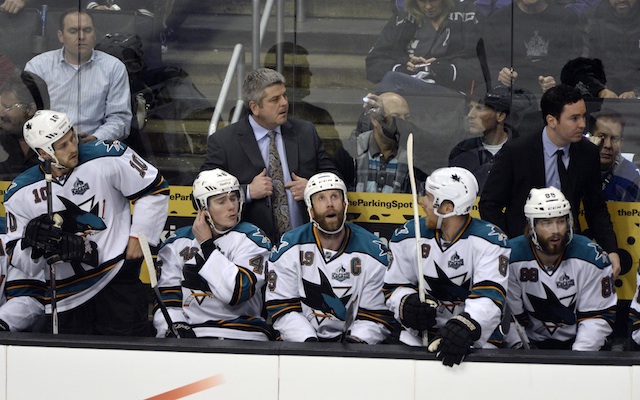 More NHL Playoffs: Scores | TV Schedule | Expert Picks | Odds | Mock Draft | Rumors
First Star Game of the Day


Game 3 (San Jose 2-0) Vancouver Canucks at San Jose Sharks, 10 p.m. ET (NBCSN)
The Vancouver Canucks might have a problem on their hands. After dropping two straight games in their building to the Sharks, the Canucks have to travel to San Jose for Games 3 and 4 and take on what's been the best home team in the NHL this season.
The Sharks only lost two games in regulation on home ice this season, and look to take a commanding 3-0 series lead against the No. 3-seeded Canucks.
Needless to say, the pressure is on in Vancouver. If there's a positive for the Canucks in this series it's that they've played better than the 2-0 series deficit might indicate (they've owned a sizable shot and scoring chance advantage in the series) and if they can keep generating the same pressure on Antti Niemi and the Sharks defense that they have over the first two games it might just be a matter of time until the breakthrough.
The only problem is that breakthrough needs to happen very soon because time is starting to run out.
Sunday would be a good place to start.
Second Star Game of the Day


Game 3 (Tied 1-1) Pittsburgh Penguins at New York Islanders, 12 p.m. ET (NBC)
The Islanders' first home playoff game since 2007 should produce an incredible atmosphere, especially after their stunning come-from-behind win in Game 2 to even their Eastern Conference quarterfinal series.
Pittsburgh was able to get a boost from Sidney Crosby returning to the lineup on Friday but also started to experience some of the same problems that resulted in an early postseason exit last year by letting an early two-goal lead slip away, struggling defensively, and not getting the type of quality goaltending you need in the postseason.
That all needs to change if they're going to regain control of the series on Sunday.
After getting blown out in Game 1 and looking like they didn't belong on the same ice with the Penguins, the Islanders came back on Friday night and looked like a faster, more aggressive team. It was quite a shift and should make for a great Game 3.


Third Star Game of the Day
Game 3 (Tied 1-1), Montreal Canadiens at Ottawa Senators, 7 p.m. ET (NBCSN)
The Senators have leaned heavily goaltender Craig Anderson in this series (just as they leaned on their goaltending for much of the season) and so far he's been spectacular, and perhaps the biggest reason they're not down in a 2-0 hole as their series with Montreal moves to Ottawa on Sunday.
After the events that took place during and after Game 1 (all of them surrounding Eric Gryba, Paul MacLean, and Brandon Prust) the Senators for some reason decided to dress tough-guy Matt Kassian in Game 2 in place of the more skilled and talented Cory Conacher. For a team that's already lacking in offense and needs to generate more it was an odd decision and one that probably didn't make a lot of positive contributions for the Senators.
Honorable mention
Game 3 (Chicago 2-0), Chicago Blackhawks at Minnesota Wild, 3 p.m. ET (NBC)

After struggling in Game 1 and needing overtime to defeat the Wild, the Blackhawks looked like the No. 1 seed and Presidents' Trophy-winning team they are in a convincing Game 2 win. This is pretty much a must-have game for the Wild as a 3-0 hole is next to impossible to climb out of it. Especially when you're the last playoff team going up against the top one.
Snap Shots
•  New York Islanders defenseman Brian Strait is out to prove something in these playoffs. [Newsday]
•  Minnesota Wild coach Mike Yeo is willing to shuffle his top line around if he needs to in an effort to get something going for his team. [Star Tribune]
•  James van Riemsdyk was a big part of Toronto's first playoff win in nine years on Saturday night thanks to this incredible effort from him and Mikhail Grabovski.
Five For Fighting
Every day, we'll have a top-five list that is pretty self-explanatory, all in this man's opinion. Today: Gretz's top-five defensemen in the Stanley Cup Playoffs
5. P.K Subban: Everybody loves to hate him, but everybody would love to have him on their team.

4. Ryan Suter: A leading contender for the Norris Trophy this season, his addition to the Minnesota lineup is a big reason the Wild ended their five-year playoff drought.
3. Alex Pietrangelo: He looks like he should be in the running for the Norris for the next 10 years. He plays some of the toughest minutes in the league and still comes out in the plus column in just about every area (shots, goals, etc.). Doesn't seem to get enough attention for how good he really is.
2. Erik Karlsson: He'll get criticism for his mistake in Game 2, but other than Craig Anderson there was no bigger reason the Senators escaped Game 1 with a win. The Senators are a completely different team with him on the ice than they are without him.
1. Zdeno Chara: Probably the best defenseman in the NHL, and if not, certainly on the short list of candidates. He has great size, one of the hardest shots in the league, and is a force at both ends of the ice.

The team tweeted on Monday that Shaw would be re-evaluated in 7-10 days

The Montreal forward was hospitalized after taking a Zdeno Chara slap shot to the head

Tampa Bay is still No. 1 and Vegas is still up there, but a few others are finally catching...
Army filed an opposition to the use of 'Golden Knights' on the last day that it was permitted...

The NBC rinkside reporter is hoping to return in time for the 2018 Olympics

Here's who wade the cut for the 2018 NHL All-Star Game on Jan. 28 at Amalie Arena in Tampa...