Quest for the Cup: Sit the tough guys, Toronto
If the Toronto Maple Leafs want to even their series against the Boston Bruins, they should probably sit the tough guys.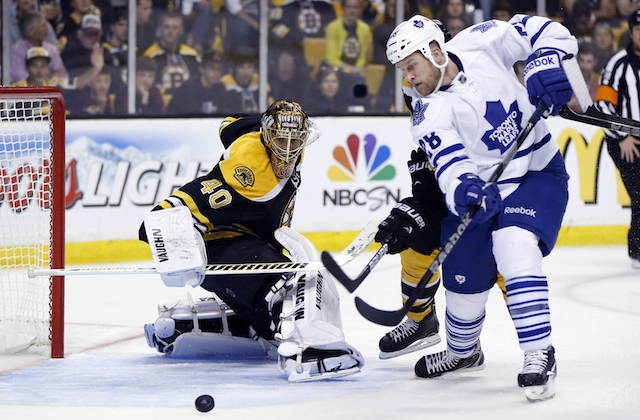 More NHL Playoffs: Scores | TV Schedule | Expert Picks | Odds | Mock Draft | Rumors
First Star Game of the Day


Game 2 (Bos 1-0), Toronto Maple Leafs at Boston Bruins, 7 ET (CNBC)
The Toronto Maple Leafs' first playoff game since 2004 did not go very well earlier this week, and it got off to a questionable start before the game even began when coach Randy Carlyle continued to dress tough guys Colton Orr and Frazer McLaren on his fourth line. This has been a big part of Toronto's lineup all season, and it's doing more to hold the team back than push it forward.
What's the point of dressing not one, but two, guys who are really nothing more than hired muscle there to drop the gloves for a playoff game?
Fighting tends to decrease in the playoffs, and the playoffs are all about having as much depth as possible and being able to come at teams with four lines that can produce. By dressing Orr and McLaren, even if they only play eight minutes a night like they did in Game 1, that's still eight minutes a night you're probably going to get outplayed and it's going to overextend some of your other lines because you're not going to trust your fourth line to play.
You're basically making your team shorthanded -- in this case by two men -- before the game even starts. Fighting and toughness has been a big part of the discussion around the Maple Leafs this season and how much of an impact it's really had on their success. A few months ago I examined their early season fights and found most of them were coming in meaningless situations and had no real impact on the outcome of the games. After their Game 1 loss, Sean Fitz-Gerald of the National Post pointed out that Toronto actually has a better record this season when it doesn't record a fighting major than when it does. And if you're still of the belief that guys like Orr and McLaren serve as a deterrent for cheap shots from the other team, just keep in mind that Andrew Ference delivered a suspendable hit to the face of one of Toronto's best players -- Mikhail Grabovski -- with two fighters dressed in the lineup.
The Bruins are a better, deeper team than the Maple Leafs and they're not doing themselves any favors by dressing a fourth line that isn't capable of contributing in a meaningful way. They're just making the job for Boston a little bit easier.
Second Star Game of the Day


Game 3 (Stl 2-0) St. Louis Blues at Los Angeles Kings, 10 p.m. ET (NBCSN)
It took the Kings until their 13th playoff game last season to lose their second game. It took them until their second game this year, and both have been lost in incredibly frustrating fashion. There was Jonathan Quick's overtime turnover in Game 1, and then a last-minute goal from Barret Jackman in Game 2.
Together they've put the defending Stanley Cup champs in a must-win situation on Saturday night. We all know the history of teams being down 3-0 in a series (only three have come back to win in NHL history -- the 1942 Maple Leafs, 1975 Islanders, 2010 Flyers) so a loss is probably going to be a dagger for the Kings.
The good news is they're returning home, and they're still a loaded team, but they need to find a way to slow down a Blues team that has looked like one of the more impressive clubs in the early part of the playoffs.
I still have my doubts about Brian Elliott in goal, but he's been very strong in the first two games and the team in front of him is still dominating the puck as it did during the regular season. If Elliott can maintain some above average play in the crease this team has the look of a serious Stanley Cup contender.


Third Star Game of the Day
Game 3 (Tied 1-1) Anaheim Ducks at Detroit Red Wings, 7:30 p.m. ET (NBCSN)
The Red Wings managed to wrestle home ice advantage away from the Ducks with a thrilling 5-4 overtime win on Thursday night, escaping Anaheim with a win after surrending a three-goal third period lead.
The Red Wings defense has been a point of concern all season and it took a big hit during Thursday's win when rookie defenseman Danny Dekeyser broke his hand and will miss the remainder of the playoffs. Even though he was just signed a few weeks ago he's stepped right into the lineup and helped solidify the blue line, and it's going to be a big loss.
Honorable mention
Game 2 (WSH 1-0) New York Rangers at Washington Capitals, 12:30 p.m. ET (NBC)
Braden Holtby continued his strong play in the Capitals' Game 1 win over the Rangers, outdueling Henrik Lundqvist. The Rangers made things a little easier early on by taking more than 10 minutes to even get a shot on goal, but once they got one the floodgates opened a little bit and Holtby had to stand tall. And just as he was in last year's playoffs, he was up to the task.
Snap Shots
• Sidney Crosby's two goals weren't enough to help the Penguins on Friday night as they dropped Game 2 to the Islanders, 4-3. New York managed to take advantage of some good bounces with shots off the glass, including this one from Kyle Okposo that bounced off the glass, off of Penguins goalie Marc-Andre Fleury, and into the back of the net.
• Ducks coach Bruce Boudreau thought some of his players were shortening their shifts in Game 2 out of fear of making mistakes. [Los Angeles Times]
• Jason Spezza doesn't appear to be close to returning for the Senators [Ottawa Sun]
• The Blackhawks are already up 2-0 on the Wild and they're starting to get healthier as goalie Ray Emery and center Dave Bolland will travel with the team to Minnesota. [Tracey Myers on Twitter]
Five For Fighting
Every day, we'll have a top-five list that is pretty self-explanatory, all in this man's opinion. Today: The top five best, deepest groups of forwards
5. St. Louis: The Blues have done a great job collecting talent over the past few years both through the draft and trade. They don't have the home run threat that you have to constantly account for, but there are very few weaknesses on this group.

4. Chicago: Remember a couple of years ago when the Blackhawks had to gut their depth because of salary cap problems? Well that depth is back
3. Los Angeles: I know they're down 2-0 entering Saturday but the Kings are big, fast, and talented and nearly all of their guys are outstanding two-way players that can drive possession.
2. San Jose: I'm starting to believe this could be the year for the Sharks. Love the way they're playing, and a forward lineup of Joe Thornton, Patrick Marleau, Logan Couture, Joe Pavelski, Martin Havlat, and Brent Burns (seriously, this guy has been incredible since the position switch) looks mighty tough to stop.
1. Pittsburgh: You know all about Sidney Crosby, Evgeni Malkin, James Neal, and Jarome Iginla, but when you have a guy like Jussi Jokinen centering your fourth line you know that's a pretty deep team. Now they just need to get things settled defensively.

The former Boston Bruin was the first black player to play in the NHL

Inclement weather led to the Charlotte Checkers and Bridgeport Sound Tigers playing in front...

The NHL chose the Detroit rocker as its All-Star Game entertainment and not everyone is th...
NHL fans from all over seem to agree on one thing: Hating Kid Rock

The team tweeted on Monday that Shaw would be re-evaluated in 7-10 days

The Montreal forward was hospitalized after taking a Zdeno Chara slap shot to the head