Quest for the Cup: Thin Bruins look to hold onto home ice
The Boston Bruins got through Game 1 with a depleted defense against the Rangers and will try the same in Game 2 Sunday.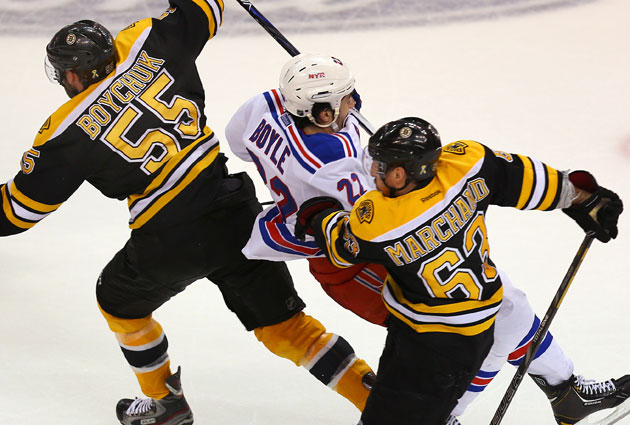 More NHL: Scores | Standings | Odds | Fight-O-Meter | League Leaders | Rumors
First star game of the day


Game 2 (1-0 BOS), NY Rangers at Boston, 3 p.m. ET (NBC):
Before the Rangers and Bruins played Game 1 of their series it was tough to find the areas that truly differentiated these teams. In so many ways they are very similar. After Game 1 it was still tough to differentiate between them. It's hard to get tighter than a game that goes well into overtime.
When it was all said and done, the Bruins walked away with a victory and a series lead. It was really a big win for Boston. Teams recover from Game 1 losses all the time and winning on home ice is expected. But with how thin the Bruins were on defense, it was a really big victory; it seemed to be there for the Rangers to grab.
At this point it's still not clear if the Bruins' three injured defensemen -- Dennis Seidenberg, Andrew Ference and Wade Redden -- will be able to play in Game 2. If not then obviously it would seem to be another chance for New York to achieve that goal of splitting the first two on the road. At the same time, it also means the Rangers will see a lot of Zdeno Chara again.
Being that it's this time of year and they are depleted right now, the Bruins have been relying even more heavily on Chara. He played more than 38 minutes in Game 1 (it did go OT, remember) and even scarier than that is the fact he was contributing offensively, too. He had a goal and an assist plus nine shots on goal, four in the OT period alone. Seeing that kind of juice on the offensive end while logging those kind of minutes is a reminder that, yes, he's not worn down. Considering there were two days off between games, you can expect to see Chara on the ice half the game again.
It's true that perhaps the on-ice action isn't the most thrilling you will see in the playoffs. I'll grant you that. But Game 1 had a good amount of offense and shots, perhaps more than anticipated, and it had the drama of a tight contest. That's something that should be present every game this series.
Second star game of the day
Game 3 (2-0 PIT), Pittsburgh at Ottawa, 7:30 p.m. ET (NBCSN):


The Ottawa Senators need a spark, some kind of jolt. Jason Spezza will hopefully be that catalyst when he makes his long-awaited return in Game 3.
Through the first two games in Pittsburgh, the Senators have definitely not looked like they match up good against the Penguins. Despite the one-goal loss in Game 2, Pittsburgh was pretty clearly the better team in that game, same as it was in Game 1. With the Penguins starting to resemble the team everybody expected them to be, the Sens need to stem the tide.
To count on Spezza to come in and do that himself is unrealistic. He's been out for months with a back issue and might have come back a little too quickly to help this team now. What's not unrealistic to expect is for the other star players on this team to step up; guys like Erik Karlsson -- who is struggling perhaps due to his own injury return -- and Milan Michalek.
Don't forget Craig Anderson, either. He was simply marvelous all season long and that continued in the first round vs. Montreal but he had two nightmarish games in Pittsburgh. Perhaps that deserves an addendum: He had nightmarish games in Pittsburgh due to the nightmare fuel that is Sidney Crosby. Anderson has to be nothing short of spectacular for the Sens; it's what they must have in this series because the Pens have been the vastly superior team so far between the creases.
Ottawa has to take Game 3 if it wants back in this series; it's nearly impossible to imagine the Sens overcoming a 3-0 deficit to a team like the Penguins. The Sens will be a desperate team and perhaps one bouyed by Spezza's return, all in a game they have to take.
Snap shots
•  Saturday night was the Kings' turn to take aim at the officiating in their series with the Sharks. Just as a sampling, here's Dustin Penner's thoughts on it all.
"I found it very tough to believe, with a player as intelligent as Trevor Lewis, that he'd run the goalie. I asked him and he said he got pushed from behind," Penner said. "I believe him and I'm disappointed that the refs had enough confidence to make a gutsy call like that in the last, whatever, 30 seconds of a period.
"It's pretty impressive when they have enough gall to guess. I'm going to look at the tape and I'm going to see if he got pushed, because I know what it's like to drive the net. Sometimes, it happens." (Los Angeles Times)
•  In the other series out West, simply put, it's time for the Blackhawks to get serious. Or credit the Red Wings for a well-played game ... (ESPN Chicago)
•  The Islanders are mulling playing some games in Nassau Coliseum after moving to Brooklyn -- a bad idea, notes Larry Brooks. (New York Post)
•  In some draft-related news, Nathan MacKinnon stole the headlines from Seth Jones with a hat trick in their teams' meeting in the Memorial Cup. (NHL.com)
•  For a little inside look, the best sounds from the first round of the playoffs from mic'd up players.
Saturday's showdown will serve as a rematch of one of the NHL's first-ever regular season...

Stacia Robitaille says Donald Trump told her in an elevator that she was coming home with...

Vladislav Yeryomenko was the Teddy Bear Toss goal scorer for the Calgary Hitmen
The Golden Knights are finally getting their No. 1 goalie back after a 25-game absence

Washington has won four straight, and the Kings are also on a tear right behind the Lightn...

The NHL says it's only interested in expanding to Seattle, but here's a look at all the moving...