Quest for the Stanley Cup: Islanders look to rebound in Game 2
Now that the New York Islanders know what the playoffs are all about, how will they do in Game 2 against the Pittsburgh Penguins.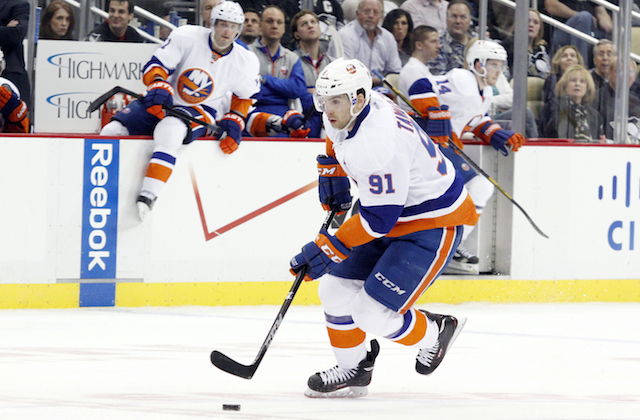 More NHL Playoffs: Scores | TV Schedule | Expert Picks | Odds | Mock Draft | Rumors
First Star Game of the Day


Game 2 (Pit 1-0), New York Islanders at Pittsburgh Penguins, 7 ET (NBCSN)

It probably shouldn't be a major surprise that the New York Islanders looked a little overwhelmed Wednesday night in their 5-0 loss to the Penguins. That's what tends to happen in the playoffs when a team goes in with a roster that had 15 players making their postseason debut, going up against a team that had nearly 1,200 games of collective playoff experience on its roster. Now that they have the first game out of the way, the young Islanders should at least be ready for what's coming their way on Friday night for Game 2.
Among the players who had a rude welcome to life in the NHL playoffs was young superstar John Tavares as his line was pretty much shut down entirely by the Penguins. As a unit, the trio of Tavares, Matt Moulson and Brad Boyes combined for just four shots on goal, with none of them coming from Tavares. That's a noteworthy event considering he was not only one of the NHL's leading scorers this season, but because he recorded at least one shot in every single game he played during the regular season. You have to go back to April 5, 2012, to find the last time Tavares failed to record a shot in a game.
The Penguins made sure they matched up their shutdown line of Brandon Sutter, Matt Cooke and Brenden Morrow with him as often as they could. They were physical, they were aggressive, and they didn't give the line any time or space to generate any sort of dangerous chances. The Islanders don't have the secondary scoring to keep up with the Penguins (or many other teams in the NHL) if this line doesn't get going.
Throughout their NHL careers Sutter and Tavares have gone up against each other for nearly 80 minutes of 5-on-5 ice-time, and Sutter has largely come away with the better of the play in those situations even going back to his play in Carolina.
It's going to be a key matchup to watch on Friday.
Second Star Game Of The Day



Game 2 (OTT 1-0), Ottawa Senators at Montreal Canadiens, 7:00 ET (CNBC)
The first teams that have to deal with a back-to-back situation in the 2013 playoffs, Ottawa and Montreal are coming off a wild and crazy game on Thursday night. The Senators escaped with a 4-2 win, thanks in large part to the play of goaltender Craig Anderson and defenseman Erik Karlsson.
Thursday's game had a little bit of everything in it, including fast-paced, back-and-forth action, physical play, and some controversy.
Even though Montreal lost Thursday's game there were still some things to like about the way it played, and you have to think that if the Canadiens can generate the same number of shots and chances that they did in Game 1 they might have a little more luck when it comes to actually beating Anderson.
What's going to hurt Montreal is the loss of forward Lars Eller, who had to be taken off on a stretcher in Game 1 after he was hit by Ottawa's Eric Gryba coming through the neutral zone. Eller doesn't put up huge numbers, but he's a solid two-way player and has been one of Montreal's better forwards coming down the stretch.
Third Star Game of the Day


Game 2 (SJ 1-0), San Jose Sharks at Vancouver Canucks, 10 ET (CNBC)
I still think the Sharks are a sleeping giant in this postseason and aren't getting anywhere near the attention they should be getting. If you want to keep clinging to postseason disappointments from four and five years ago when they had a different roster, more power to you. But this team isn't one to overlook.
They had a really strong performance in Game 1 on Wednesday night and look to take a 2-0 series lead on Friday.
For the Canucks, all eyes will once again be on Roberto Luongo as he gets another start in net in place of the injured Cory Schneider. Luongo played well on Wednesday despite taking the loss, and that shouldn't be a surprise.
He's going to give the Canucks a chance, but they need to generate more offense if they're going to keep up with the Sharks.
San Jose retooled its roster on the fly at the trade deadline and it looks like a better, faster team and the Sharks are going to be a problem for the Canucks (and the rest of the Western Conference if they move on).
Honorable Mention


Game 2 (CHI 1-0), Minnesota Wild at Chicago Blackhawks, 9:30 ET (NBCSN)
Still no word as of this publication whether the Wild are going to get Niklas Backstrom back, but backup Josh Harding was spectacular in Game 1, and so far it's been one of the better stories of the playoffs. Harding missed most of the season after being diagnosed with Multiple Sclerosis.
He stepped into the lineup on Tuesday and gave his team a chance, helping to send the game to overtime where the Blackhawks would eventually win. Had it not been for the play of Harding the game probably doesn't get that far.
Minnesota might need a repeat performance from whichever goalie it starts, but even that might not be enough against this loaded Blackhawks team.
Snap Shots
•  Last week the Ottawa Sun received some attention when one of its columnists wrote about his man parts. On Friday, the Ottawa Sun is receiving attention for this front page.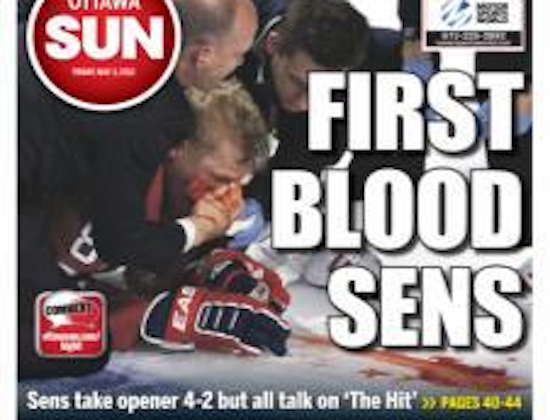 That's terrible.
•  And speaking of the hit, Gryba, the man that delivered the hit on Eller, has a disciplinary hearing scheduled for Friday afternoon. We will know before the drop of the puck for Game 2 whether or not he will be suspended. He was given a five-minute major for interference and ejected during the game. [Lars Eller taken off on stretcher]
•  The Detroit Red Wings win on Thursday night was a costly one as rookie defenseman Danny Dekeyser will miss the remainder of the postseason due to a broken thumb. Dekeyser signed as a free agent late in the season and was one of the most sought after college free agents available. He stepped right into the Red Wings lineup and helped to solidify a defense that had struggled for much of the season. [Mlive]
•  Should the Carolina Hurricanes consider trading Jeff Skinner for defensive help? My thoughts: No. A thousand times no. [News Observer]
Five For Fighting
Every day, we'll have a top-five list that is pretty self-explanatory, all in this man's opinion. Today: Top five most exciting players in the playoffs.
There is nothing scientific about this list as it is my own personal list, and you don't have to agree with (nor do I expect you to).
5. P.K. Subban: Some people consider him a "villian" but I think he's one of the most entertaining players in the NHL both on and off the ice, mixing incredible talent, personality, and enough of a physical edge that opposing fans can't stand him. He's the type of player you love when he's on your team and love to hate when he's not. And that makes the game better for everybody.
4. Teemu Selanne: Just because it's amazing to watch a 42-year-old still be one of the best players on the ice every time he's out there.
3. Alex Ovechkin: Watching Ovechkin over the past couple of months is like what it was a few years ago when he was scoring 50 goals every year. Every time he touches the puck you're inching toward the edge of your seat waiting to see what amazing thing he's going to do with it.
2. Pavel Datsyuk: So creative, so talented, and perhaps the toughest player to stop one-on-one in the NHL.
1. Sidney Crosby: He will return to the lineup for Game 2 after suffering a broken jaw in March. The total package as a player, there isn't a single weakness to his game and he does absolutely everything you want from a player.
Vladislav Yeryomenko was the Teddy Bear Toss goal scorer for the Calgary Hitmen

The Golden Knights are finally getting their No. 1 goalie back after a 25-game absence

Washington has won four straight, and the Kings are also on a tear right behind the Lightn...
The NHL says it's only interested in expanding to Seattle, but here's a look at all the moving...

The NHL says it is only looking toward Seattle for the next expansion team

The 33-year-old defenseman hopes to help find a cure for serious head injuries in athletes