Quest for the Stanley Cup: Kings, Blues get started; top five series
The Stanley Cup playoffs start on Tuesday. Game of the day? Kings at Blues, which also happens to be the top series to watch.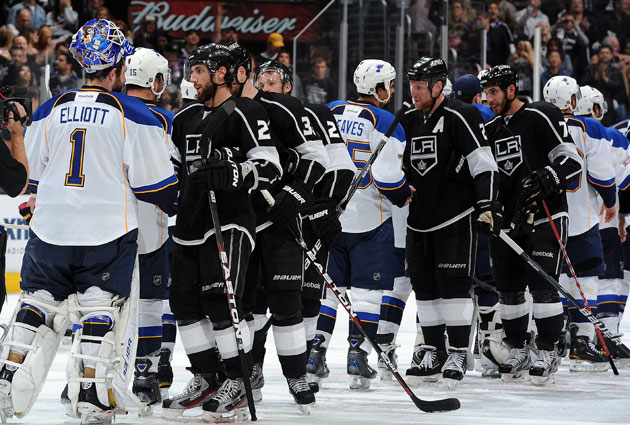 More NHL Playoffs: Scores | TV Schedule | Expert Picks | Odds | Mock Draft | Rumors
First Star Game of the Day
Game 1, L.A.  Los Angeles Kings at St. Louis Blues , 8 ET (CNBC): The Stanley Cup champion Kings begin their official defense of the crown starting in a city where their postseason buzzsaw went through last year. For my money, this is the most intriguing first-round series to watch by far.


The Kings and Blues are both big, physical teams that focus on defense first but have a couple of lines of some good-to-very-good scorers. They are both excellent puck possession teams, two of the very best in the NHL. In last year's matchup, it was the Kings who were doing the possessing. Now, it's the Blues that are streaking.
Part of the reason why the Kings were able to plow right through the Blues a year ago was the goaltending. Brian Elliott was not playing well for St. Louis while Jonathan Quick got even better in the playoffs than he was in the regular season. If you buy into trends going into this game, it could swing the other way this time. After a terrible first few months, Elliott was lights out in April, recording a .945 save percentage. Quick was better in April than the rest of the year, too, but, all in all, it has been a subpar season from Quick. It's hard to believe based on how he was last year, but he has been the weak link.
This is the 4-5 series in the West, and it really should be as good and close of a matchup as that would indicate. If this first game is bigger for one team, it has to be for St. Louis. In the last series, the Kings won Games 1 and 2 in St. Louis, all but sealing the deal. The Blues can't let that happen again. At worst, they need a split.
Game 1 will be the tone setter in St. Louis. And with these teams involved, that's going to be one tough and entertaining tone.
Second Star Game of the Day


Game 1, Detroit Red Wings at Anaheim Ducks , 10:30 ET (NBCSN): If the Red Wings could have hand picked their opponent this postseason, they probably would have taken the Ducks (of the top seeds, that is). The Wings come into the playoffs having won four in a row, already in that playoff mindset. The Ducks were cruising the second half of their season, only 5-4-1 in their last 10. Coming in, the momentum favors Detroit.
While the Ducks were a good home team this season, going 16-7-1, two of those seven regulation losses came against the Wings in back-to-back games, similar to a playoff series. Not that that's an easily replicated feat, mind you, but the Wings know they can go into the Pond and win.
Bruce Boudreau wants to erase the playoff stigma around his name, so getting off to a good start vs. Detroit is a good first step.
Third Star Game of the Day


Game 1, Minnesota Wild at Chicago Blackhawks , 8 ET (NBCSN): On paper, this series doesn't seem to be much of a competition. As you know, though, they don't play these games on paper.
This is the feeling-out game, of course. For people watching, it's about trying to get a feel if the Wild are capable of making this a series. The edge goes to the Blackhawks in just about every category that you can come up with, and the Wild have to know they are big underdogs. They will try to show they belong in the playoffs against the Hawks and, to do so, they will need to rely a lot on goaltender Niklas Backstrom . Chicago is a much better possession team, and it will test Backstrom. He has been a sore spot of late for the Wild, but they need him in a big, big way, starting in Game 1. Get that first game, and who knows?
Snap Shots
•  If the Wild are going to have a chance against the Blackhawks, they need to be as close to full strength as possible. So it's good news for them, then, that Jason Pominville appears ready to go for Game 1. (Minneapolis Star-Tribune)
•  One of Jonathan Toews ' nicknames is Captain Serious. He isn't a fan of it. (New York Times)
•  Remember Don Cherry's comments about female reporters in locker rooms over the weekend? Well, Robin Herman wrote a letter to Cherry on ESPNW reminding him that he was the first to let her in an NHL locker room. (ESPN)
•  Since he was traded to the Pittsburgh Penguins , Jarome Iginla feels rejuvenated. The news gets better for Eastern Conference foes ... (Penguins)
•  Stanley Cup hangovers? Pffft. Try broadcasting hangovers, from the TSN crew.
Five for Fighting
Every day, we'll have a top-five list that is pretty self-explanatory, all in this man's opinion. Today: Top-five playoff series this round.
No. 5: Montreal Canadiens vs. Ottawa Senators -- All-Canadian matchup, teams in close proximity, a Canadiens team that has been struggling and an Ottawa team getting healthy. Could easily go seven games.
No. 4: Anaheim vs. Detroit -- The Ducks were a Cinderella team of sorts, so here's the chance to prove it wasn't a fluke. The Wings are the Wings and come into the playoffs on a win streak.
No. 3: Boston Bruins vs. Toronto Maple Leafs -- Thank you, Phil Kessel ! This is intriguing for a lot more reasons than that history. The Leafs are back in the playoffs. And while I wouldn't like them normally, they catch a reeling Bruins team.
No. 2: Vancouver Canucks vs. San Jose Sharks -- They renew acquaintances in the playoffs. The last time that they met,  Kevin Bieksa was shooting a puck that nobody else saw. Two Cup contenders enter; only one can leave.
No. 1: St. Louis vs. Los Angeles -- The defending champs vs. arguably the hottest team in the NHL. It will be physical. It should be highly entertaining. What's not to like?
Former Lightning standout will be guarding the net in style in 2017-18

Devils are still in rebuilding mode, but they have reason for hope thanks to young additio...

Buffalo is in the midst of contract extension talks with Jack Eichel, and the payout could...
Los Angeles isn't rushing to sign the 45-year-old forward any time soon

The University of Denver star and Hobey Baker Award winner is drawing interest

Intrigue is high in Arizona after a wild offseason, but expectations should still be tempe...