Randy Carlyle given two-year extension to remain Leafs coach
The Toronto Maple Leafs have extended the contract of coach Randy Carlyle two more years while dismissing some of his assistants.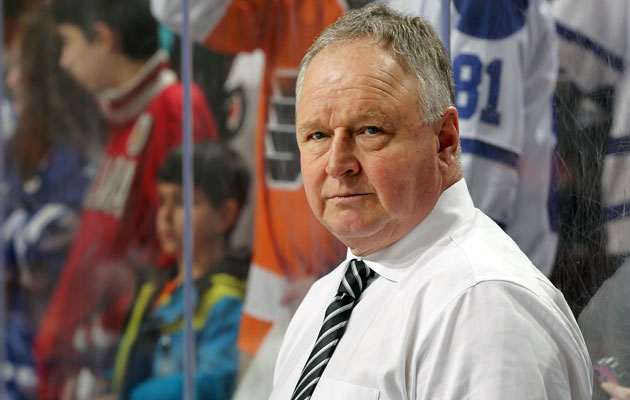 More NHL Playoffs: Schedule, TV listings | Expert Picks | Bracket | Scores | Odds
Ever since the season ended in flames for the Toronto Maple Leafs and Brendan Shanahan was hired as the team's president, questions have remained about the future of head coach Randy Carlyle.
We have our answer. Not only is Carlyle sticking around as the head coach, but the Maple Leafs have given him a two-year contract extension beyond the one season remaining on his current deal.
"It was important, after a disappointing end to the season and the arrival of Brendan [Shanahan] as team president, to conduct a thorough review of the organization as we continue the work of building a winning tradition and culture for the Maple Leafs," GM Dave Nonis said. "That process started with the head coach, and as we analyzed it, we decided together that Randy Carlyle was the right person to lead this team. In Randy we know that we have a leader who has enjoyed a high level of success as both a player and a coach, including a Stanley Cup championship. It was important that the positives Randy brings to our team were not overshadowed by a finish to the season that we all must take responsibility for."
While Carlyle is staying, three of his assistant coaches are not. Dave Farrish, Scott Gordon and Greg Cronin were let go by the club.
"I want to thank Dave, Scott and Greg for their many contributions to the organization," Nonis said. "Their experience, leadership and outstanding work ethic have been invaluable and we wish them continued success as coaches in the NHL."
The decision to keep Carlyle was made by Nonis but was done with the "input and support" of Shanahan.
"I appreciate the support of Brendan, Dave and the entire organization and am looking forward to working with them to get the Maple Leafs back into the playoffs," Carlyle said. "We have a strong foundation here and everyone wants to get back to work to deliver the results that we know this team is capable of. At the same time, I'd like to extend my gratitude to my assistant coaching staff. Their contributions will continue to be an important part of this team's success in the future, and for me personally, will always be reflected in me as a head coach."
Any time a team falls apart and blows a playoff spot the way the Maple Leafs did, it's going to bring a lot of heat on the coach. That's especially the case for Carlyle, who has been anything but a popular bench boss for the fans of Toronto.
Under Carlyle, the Leafs have played a style that has led to them being outshot severely on a regular basis but yet they managed to keep winning a lot of games. Eventually this season it all caught up to them and they crashed and burned. It seemed to shed more light on the systemic issues with the Leafs' playing style as much as the players not producing.
When Shanahan was hired, he talked about using analytics, something that the Leafs have scoffed at some in the past and something that didn't seem to bode well for Carlyle. His team is at the bottom of almost every "advanced" stat available. It will be interesting to see how much the Leafs push for a change in that approach, perhaps a new staff of assistants will be tasked with helping that change.
Carlyle has a record of 70-62-16 in his time with the Maple Leafs. He had 230 wins as the coach of the Ducks for six years, including leading them to the Stanley Cup in 2007.
The Oilers' young star remains seriously unfair

David Kelly, a Toronto-born hockey analyst, has strong advice for Edmonton vs. Chicago game...

Gary Bettman says otherwise, for the time being, but Houston could be primed for a team
Here's what you might have missed across the NHL on Wednesday night

Ovi breaks down doors in Virginia

Winger also says he will no longer raise a fist during the anthem after his protest started...