Rangers come alive in third period to take down rested Devils in Game 1
The New York Rangers were the team that played a Game 7 a couple of days ago while the Devils hadn't played in nearly a week. Yet it was the Rangers that owned the third period for a 1-0 series lead in the Eastern Conference finals.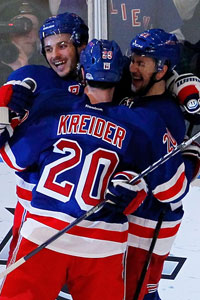 The Blueshirts have reason to celebrate a lot in the third period. (Getty Images)
Through two periods at Madison Square Garden on Monday night, it seemed like there were more blocked shots than shots on net. It was turning into an ugly game that was drawing plenty of criticism from fans watching all over the Twitterverse.
It was being suggested partly in jest, partly in fear that the game might go on all night without a goal.
Then the third period came. You know, the period that the Devils were likely going to pull away due to their rest with a six-day break since they last played compared to the Rangers who played two nights ago in their second Game 7 of the postseason. It just didn't turn out that way.
When the final stanza began the Rangers were the ones that came out flying. The first 40 minutes had no goals. The 41st minute featured one ... from Dan Girardi. How fitting is it that in a defensive game like Game 1 was that a normally non-offensive player like Girardi would notch the first goal.
So then it was time to sit back and hold, hold, hold. It's just that didn't happen either. The Rangers kept on coming. Eventually Chris Kreider, the 20-year-old who was enrolled at Boston College a little more than a month ago, scored on the power play to make it 2-0 and all but seal it for the Rangers. Artem Anisimov finished it up with an empty-netter with 1:27 to play.
"It was the type of hockey game that when they scored that first one we had to open it up a little bit and that's what happened," Devils coach Peter DeBoer said after the game.
That just doesn't show up too much in the stats. The shots in the final period were 10-4 ... in favor of the Rangers.
It certainly would seem to go against convention, against what you'd expect to see. If you remember Game 1 of the Devils' series against the Flyers, it was New Jersey coming in after a Game 7 while the Flyers were the rested bunch. As the game went along the Flyers slowly took more and more control the point that they were dominating in the closing period.
It brings up again the close-to played out question we get a lot this time of year: Rest or rust? Personally I don't think we saw either from the Devils. It wasn't an issue of energy from them or they didn't look sluggish. They played their game well, particularly their forecheck. They just couldn't get a whole lot of shots through to Henrik Lundqvist.
"We know that's what they do [blocking shots]," DeBoer said. "And you've got to find a way around it. We still generated enough offensive opportunities to score some goals tonight."
There is a good sign of a well-conditioned team. Even with the physical toll they were taking they still had all of that juice left for a very strong third period.
That speaks to the Rangers' conditioning. Coach John Tortorella worked his team through a vigourous training camp, preparing for the haul that he hoped this season would be. His team isn't showing it's a tired bunch, even having played 15 games up to this point.
And don't dare suggest to Tortorella that the Rangers might be fatigued.
"I don't know where you guys get all this stuff being tired," Torts said. "If we're tired this time of the year, there's something the matter. We still have a month to play. You might as well not even ask me questions about being tired.
"We're not a tired hockey club. We are ready to play. So it seems like it's a lot of questions about that. You guys get the figures of the seven games and you don't win a Stanley Cup and all that ... this club will be ready to play."
If the Rangers do win the Cup, I won't be surprised if they become the first team to go 16-12.
The Rangers are starting to build a reputation of waiting for the end to play their best. They've won two Game 7s, they had a triple OT win vs. Washington. Then they had a strong close on Monday. That's a trend they'll take all the way through June if they can.
For more hockey news, rumors and analysis, follow @EyeOnHockey and @BrianStubitsNHL on Twitter and like us on Facebook.
The NHL says it's only interested in expanding to Seattle, but here's a look at all the moving...

The NHL says it is only looking toward Seattle for the next expansion team

The 33-year-old defenseman hopes to help find a cure for serious head injuries in athletes
Chicago becomes the latest NHL club to earn an evaluation of $1 billion or more

The city council has approved a $600 million redevelopment project for KeyArena

Arvidsson took off his glove to reveal an engagement ring for one lucky fan