Rangers GM hopes Derek Stepan 'gets wiser' in ongoing negotiations
Derek Stepan remains without a contract and Rangers GM Glen Sather isn't pleased. He said it's time Stepan gets wiser and takes their 'very good deal.'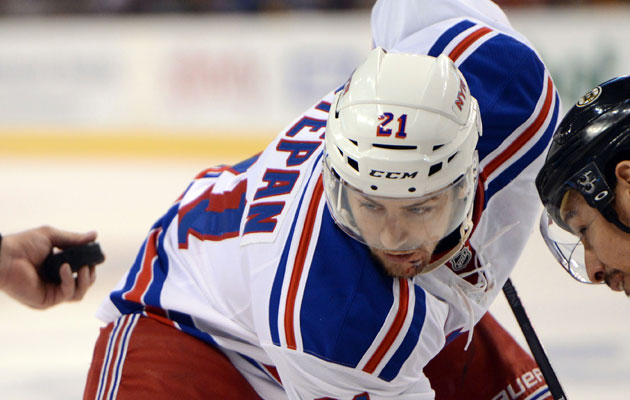 NHL previews: Atlantic Division | Metropolitan Division | Central Division | Pacific Division
The start of the season is only a week away and still the New York Rangers are without their leading scorer from a year ago because of a contract dispute. This has GM Glen Sather a little peeved.
Derek Stepan remains a restricted free agent and thus isn't in camp with the Rangers and pretty clearly won't be on the ice for the season opener. Sather, who doesn't have a lot of room under the salary cap to work with, isn't happy about that fact at all. He went on MSG Network on Monday night to talk about it (via NHL.com).
"I don't think Derek is going to let this thing linger that long," Sather said. "I don't think he is a big enough fool to think that he will sit out the year and it will do any good. He is in a gap contract and every one of our players has signed a gap contract.

"You look at the football players who are making minimum wage, they get paid after they go through that time. I find it frustrating that some teams are in a hurry to sign these guys to big contracts. I think it's because the owners or managers panic and it's unfortunate that he has listened to his agent and decided [to do] that.

"He is going to get paid, but it isn't today. I hope he gets wiser because every day he misses is a big deal. We have offered him a very good deal. When he turned down our qualifying offer, we have stuck with that. He has to start smelling the roses and figure out what is going on. I hope he does."
You have to give Slats this, he doesn't hold back when he talks. That's a hard line he's toeing and he's sticking to it.
It's also pretty wild some of the things he says. NHL teams have a lot of power over restricted free agents and he seems intent on exerting that power. The bridge or gap contract is common across the league right now and that's what Sather wants, clearly. Most players understand that and accept it, too. Frankly, that part doesn't seem to be an issue for Stepan either.
But it's funny when Sather mentions that every player on his team takes a gap contract. The Rangers have this pretty good player named Ryan McDonagh who is about to play the first year of his new contract that is for six seasons and $28.2 million. That's his first deal off his entry-level contract. It's kind of tough to look at that and take what Sather is saying seriously.
So though Sather is pointing the finger at some other teams like his former squad in Edmonton for signing big second deals, he's done it himself before, too.
What's more is I don't see why players should simply roll over and accept that the bridge deals are an inevitability. Sather can sit here and say that Stepan is going to get paid in a couple of seasons so just sign the deal now all he wants. While that's likely true, that's no guarantee. Stepan's future is very bright but you never know what can happen. There are no guarantees down the line. If the shoe fits, long-term deals shouldn't be off the table as a blanket rule.
All of that said, reports suggest the issue isn't the term here for Stepan, it's more about finding the right price. Just because the Rangers didn't do the best job in the world managing their salary cap doesn't mean that Stepan should play for below-market value. Unfortunately for him, he has little recourse other than to sit out. At least in his case that is decent leverage given his 44 points in 48 games last season.
There's also the issue that Sather brings up about Stepan listening to his agent. Umm, Sather, that's why players have agents. Who is he supposed to listen to, the guy on the other side of the negotiating table? He's looking out for the best deal he can get and based on the suggested reports, he's already willing to accept a pretty friendly deal for the team.
According to the New York Post, Stepan is seeking a deal for $7 million over two seasons. That's gap deal and that's a great price for a guy who was nearly a point-per-game player as a top-line center last season. The problem is the Rangers can't afford that with their cap situation and are reportedly countering with $6.4 million over two years. It's not a large difference but when Stepan is already below value on his negotiating tactics, it seems bigger.
Let's be clear here: Stepan has earned the money he's asking for. Remember the Nazem Kadri negotiations? The Leafs had some leg to stand on as Kadri had only one season of great numbers to stand behind. They could argue they need to see more and did. Stepan has given the Rangers great and increasing production for three years.
He's not out of line one bit but he just didn't fit in with the Rangers' cap right now because of the previous spending that Sahter did. That has Sather resorting to bullying. He's essentially villifying Stepan here for seeking a very reasonable salary. How dare he?!
It's really difficult to see how this situation gets resolved without the Rangers making another move. It will be easy for fans to point at Stepan for the blame and say he should just suck it up and take the cheaper deal but I don't think he's being out of line. Of course we could find a resolution if an offer sheet would go his way but short of that, this is going to have to be worked out the old-fashioned way. It would probably be best for Sather to tone down the approach.
The 45-year-old free agent is taking things patiently as September approaches

The playoff drought might not end immediately, but something is brewing in restocked Buffa...

Former Lightning standout will be guarding the net in style in 2017-18
Devils are still in rebuilding mode, but they have reason for hope thanks to young additio...

Buffalo is in the midst of contract extension talks with Jack Eichel, and the payout could...

Los Angeles isn't rushing to sign the 45-year-old forward any time soon