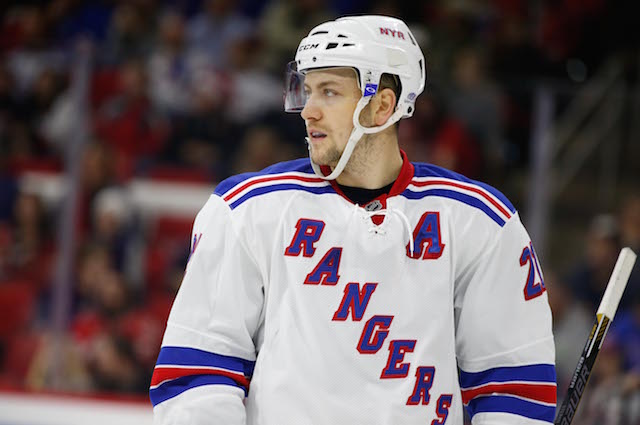 The New York Rangers and center Derek Stepan were able to find some common ground before needing salary arbitration on Monday, agreeing to a long-term contract extension. 
The team did not release the terms of the deal, but Larry Brooks of the New York Post reports that it is a six-year deal that will pay Stepan a total of $39 million.
That comes out to an average annual salary and salary cap hit of $6.5 million.
New York has just enough cap space to fit that contract under the $71.4 million cap for the season without having to make another move, but it now leaves them with roughly $424,000 in cap space (via General Fanager) with 23 players under contract for the 2015-16 season. They don't need to make another move, but it's possible somebody could be shipped out over the coming weeks to create a little extra space under the cap.
The 25-year-old Stepan is coming off of a season that saw him record 55 points (16 goals, 39 assists) in 68 games for a Rangers team that advanced to the Eastern Conference Final for the third time in four years. The 51st overall pick in the 2008 draft, Stepan has developed into the Rangers' top center since making his debut back in 2010.
Over the weekend it was reported that Stepan was seeking an award of $7.2 million in arbitration while the Rangers were countering with an offer of $5.2 million. They basically met right in the middle on the long-term deal. 
He's never going to be a huge point producer, but he is still one of the more productive forwards in the league right now. Since the start of the 2012-13 season his .787 points per game average is 41st among all NHL forwards (minimum 100 games played) and puts him in the same area as players like Patrick Sharp, Marian Hossa, Jordan Eberle, David Krejci, Ryan O'Reilly, Jeff Carter and Patric Hornqvist.
His cap hit for the 2015-16 season will be the 29th largest among all forwards.