Rangers' special teams not so special as they fall into 2-0 series hole
The New York Rangers are down 2-0 in their series with the Capitals and a big reason why is they're 0 for 7 on the power play.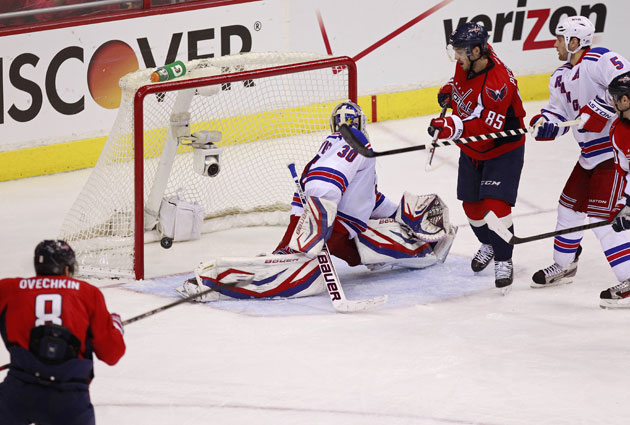 More NHL Playoffs: Scores | TV Schedule | Expert Picks | Odds | Mock Draft | Rumors
WASHINGTON -- Special teams are called special for a reason; they're especially crucial, particularly in playoff hockey. That has not been any more evident than the first two games of the Capitals-Rangers series.
At even strength it's been a very, well, even series. It's been relatively quiet from a scoring standpoint but you can thank the goaltenders Henrik Lundqvist and Braden Holtby for that, not on a lack of offense (like last year's playoff series). The goalies have both been nothing short of spectacular, particularly in Game 2 on Saturday afternoon. That helps explain why overtime came without a goal on the board.
It wasn't as if there weren't chances. The Caps had plenty of golden opportunities and the Rangers had some as well. Holtby didn't stop everything; the posts helped out a couple of times. Lundqvist stopped everything until the final shot that gave the Capitals a 1-0 overtime win.
Most concerning for the Rangers, though, are the shots they aren't making Holtby stop.
In two games now the Rangers have had seven power-play opportunities against the league's 27th-ranked PK unit in the regular season. Seven times they have failed to score. Three of those chances came Saturday, one in the dying moments of regulation and another in overtime.
Power plays at a crucial time in a playoff game. Big spot. So what did the Rangers do? Fail to even get a shot on goal. On either power play.
"I think those last two power plays have to be better chances and we've got to execute on them and score a big goal," Rick Nash said. "We had the opportunities and we didn't get the job done."
The Rangers nearly had another opportunity as well. In the last minute of the game the puck went off the stick of Karl Alzner and into the crowd while he was in the defensive zone. It could have been a delay-of-game call against the Caps but the refs didn't make the call. It didn't seem to make Rangers coach John Tortorella happy on the bench but after the game he was matter-of-fact about it.
"It's a rule," he said -- correctly, I might add.
Not that it would have mattered, it seemed. The Blueshirts were so ineffective in the situations that you don't feel like they lost out. If anything it would have given the Capitals even more momentum with another kill.
Then again, it's not like the Caps could have been much better in overtime. They outshot the Rangers 8-0 even with that one PK.
As fate would have it, the Caps got their own power play in overtime and that yielded the game-winner from Mike Green. It's more than momentum that swings back and forth with special teams, it's games as a whole.
"I think that's one of the big things in the playoffs is that there are so many swings in a game and you just have to find that level ground," Rangers forward Derek Dorsett said. "When you feel that it swings the wrong way you have to go out and have a good shift, make sure you're doing the right things."
It has been a problem for a few years now in New York, the lack of scoring on the power play. It has been one of the bigger mysteries in the NHL as far as I'm concerned, how a team with the talent at forward the Rangers possess can be so bad on the power play.
"We're just too stagnant, we're almost paralyzed," a curt Tortorella said. "I'll leave it at that."
If the Rangers are going to have a chance at winning the Eastern Conference -- nay, if they are going to have a chance of coming back to win this series -- they will need to find a way to take advantage of the power play. That's why they call it the man advantage in the first place. They need to start by beating the Caps' kill.
For much of the season that hasn't been a problem for teams around the league. Washington was near the bottom of the barrel in that department, a definite weakness. However, things have turned around in that regard. What has been the key to the Caps' PK turnaround?
"A lot of little things. One is conditioning. When we started, guys were in lots of different shapes," coach Adam Oates said. "As the year goes along you get into a rhythm. Little decisions, clears, not giving teams second chances. Probably a little bit of luck in there, too."
If you want to credit luck for some of the Caps' success on the PK and the Rangers failures on the power play, you can. You can credit it to poor puck movement or on the Caps' individual PK men like Eric Fehr. Credit it to whatever you want in this series, but the Rangers must be better on the power play.
Game 2 illustrated perfectly that this is still definitely a special-teams game in the playoffs even if the whistles don't tend to come as frequently. It also illustrated that the Rangers' inability to derive offense from the man advantage is hurting them. With the Capitals' power play being such a lethal unit, they have to be able to go stride for stride, make their man advantages meaningful and impactful. They didn't do it in either of the first two games and not so coincidentally are in a 2-0 series hole.
Until they can figure out how to do that, the Rangers are in for a tough battle. They won't be able to realize the vast potential people see in them and the lofty expectations placed on them. Fortunately for the Rangers, the series is hardly finished.
"We haven't played at home yet," Brad Richards said. "We're going to ride our crowd like they did and we're going to score more than one goal in two games."
Will any of them be on special teams?
Players are set to give personalized messages for Adidas' former hockey equipment brand

The 40-year-old center is returning to the Wild after a successful run in Pittsburgh

Edmonton locks up its 21-year-old RFA a month after McDavid's historic extension
Even with a new coach and added veteran help, the Canucks have a long road ahead

Unlike expansion teams before them, the Knights have enough talent to entertain right away

Brian Lawton says he 'would not be surprised' if Boston deals its young star to end contract...