Raphael Diaz traded to Canucks in exchange for Dale Weise
The Montreal Canadiens traded defenseman Raphael Diaz to Vancouver on Monday in exchange for forward Dale Weise.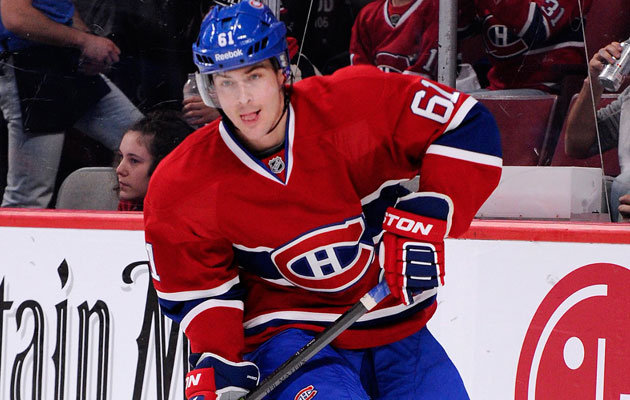 More NHL: Scores | Standings | League Leaders | Odds | Injuries | Power Rankings
The Vancouver Canucks have acquired defenseman Raphael Diaz from the Montreal Canadiens in exchange for forward Dale Weise, the team announced Monday.
Diaz was on the trade block because he's an unrestricted free agent at the end of this season and in Montreal he has been a second- or third-pairing defenseman. To see him traded doesn't come as a surprise in the least. If they weren't going to re-sign him, this was the best option.
Having said that, it's tough to imagine that the best the Canadiens could do for Diaz in a trade was a return of Weise. The Canucks are getting a good, puck-moving defenseman who is capable of playing a bigger role than on a third pairing in exchange for a guy who doesn't do a ton more on the ice than intimidate and be physical.
Weise has three goals and nine assists this season for the Canucks in 44 games while racking up 42 penalty minutes. In 162 career NHL games Weise has 10 goals and 16 assists. Still, the Habs thought he was worth it for Diaz, straight up.
"A young veteran with 162 games of experience at the NHL level, Dale Weise is a winger with a physical style of play who brings additional toughness and grit to our group of forwards," Canadiens GM Marc Bergevin said.
The Canadiens have been working on getting bigger and tougher for some time, seemingly to compete with the rough-and-tumble Maple Leafs and Bruins in the division. Apparently adding George Parros and Douglas Murray to Brandon Prust wasn't enough.
In Vancouver, Diaz should be able to slide right in and help in more ways than one. The Canucks have had plenty of problems on the power play and being the puck-mover that he is, Diaz might be able to give that unit a spark if given a chance. He also helps them in the depth department as some of their blue line is dinged up.
The Switzerland native will represent his country at the Olympics starting in less than two weeks in Russia.
In terms of asset management, that's pretty excellent work by Gillis, especially if Diaz works out and signs a new deal with the Canucks. Weise was a waiver wire pickup.
Sign up now, and your name can be under the Golden Knights' skates, too!

Pittsburgh coach Mike Sullivan says the team also respects players' right to protest

Some familiar faces are back, but a cap-strapped summer left Chicago a little shakier than...
The Pittsburgh Penguins will put politics aside and visit the White House out of 'respect'...

NBC will reportedly be devoid of NHL game broadcasts between Feb. 7-26

The Winnipeg winger suggests Trump is going after 'the principles the U.S. was founded on'