Red Berenson takes center stage in Alumni festivities at age 74
Red Berenson is 74 years old but looked every bit as good as the other Wings on the ice in the Alumni Showdown, earning himself 'idol' status among his 'peers.'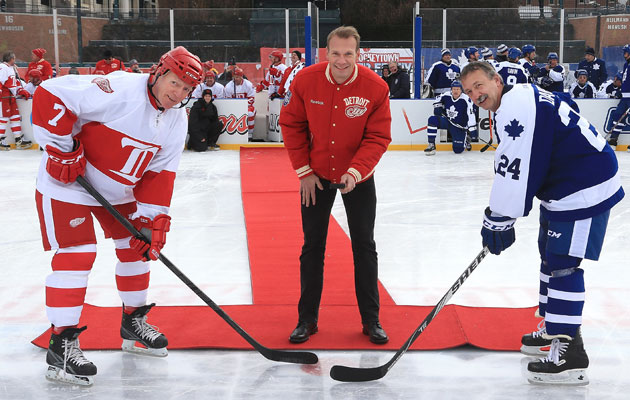 More NHL: Scores | Standings | League Leaders | Odds | Injuries | Power Rankings
DETROIT -- There were so many former greats from the Red Wings and Maple Leafs that wanted to take part in the Alumni Showdown prior to Wednesday's Winter Classic that they had to make two games. It's a good thing they did because it gave everybody a chance to marvel at Red Berenson.
The 74-year-old took the ice and didn't look out of sorts at all in the first of the two alumni games at Comerica Park, home of the Detroit Tigers. Suiting up for the Red Wings, Berenson fit right in with players much, much younger than him.
"I was impressed with Red Berenson at 74 years old. He's my idol," Leafs alumnus Brad Marsh said. "I hope I can work hard enough to play in these alumni classics when I'm 74. I'm 55 now so you can do the math.
Berenson hasn't played in the NHL since 1978 when he finished out his career with the Blues, 36 years ago. He fooled everybody on that front.
Berenson, who is now recognized as one of if not the best coach in NCAA hockey history just down the road at the University of Michigan, was literally doing it all for the Wings. Even with legendary coach Scotty Bowman on the bench, welcomed to the field by a loud roar from the crowd on hand, in the waning mseconds of the game it was Berenson doing the coaching.
With the Wings holding onto a 5-4 lead and with a timeout on the ice, Berenson was at the bench diagramming the play for the defensive zone faceoff.
"Maybe because my head was into it because I do this every day as a coach. Scotty put me out there and knew that I could figure it out, wouldn't screw it up," Berenson said. Marsh was certainly impressed.
"The last faceoff was hugely impressive how hard he was on the puck," Marsh said of Berenson. "He just clamped right down. It's impressive."
The Wings held on but it wasn't really about the score. After all, it's a game for fun and a chance to see some legendary players playing once again. It was a chance for guys to enjoy the game once more in front of big crowd and outside with some snow flakes falling from time to time. And it was a chance for Berenson to show off he's still got it.
"I think I'm lucky. I've been able to stay in the game and stay around young kids playing college hockey and I'm on the ice with them," Berenson said. "But I can tell you I'm just lucky. I just feel honored to be able to play in this even with guys who are much younger than me."
From the sounds of it, they all felt more honored to play with him.
The 38-year-old defenseman had been on the free agent market since July 1

New York fans aren't too happy about it, either

The league is not backing down, but players aren't hiding their frustrations, either
Draisaitl remains unsigned as Edmonton's premier restricted free agent

Yes, it is as perplexing as it sounds

Here's a look at the best of what's left in the pool of unsigned veterans