Red Wings advance past Ducks as veterans lead way in Game 7
Facing elimination once again, the Wings again answer with another strong game from their captain Henrik Zetterberg.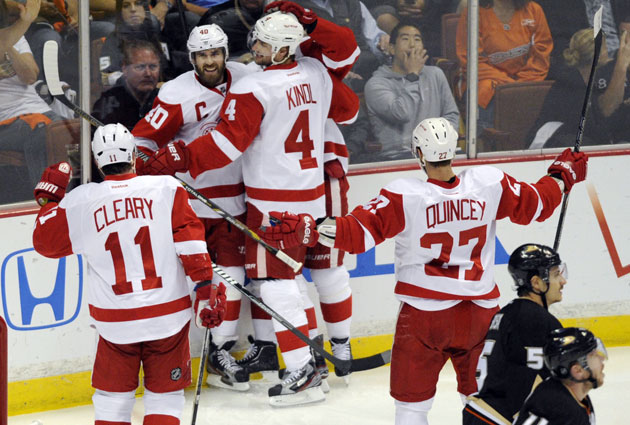 More NHL Playoffs: Scores | TV Schedule | Expert Picks | Odds | Mock Draft | Rumors
You don't play in the postseason every year for more than two decades as a franchise and not develop some of those much-discussed intangibles, that killer instinct. The Detroit Red Wings continue to prove that.
The term resilient comes to mind when you think of this year's incarnation. The Wings have been facing adverse situations for weeks now and responded every time. They did it again on Sunday night on the road in Anaheim in a Game 7, winning 3-2 to advance to the next round and draw their old foes from Chicago.
Heck, they've been facing adversity since the season began, dealing with doubts from their own GM who suggested this might be the year the Red Wings' amazing playoff streak ended. Not only was Ken Holland wrong, he was way wrong. Detroit is going deeper this season than they did last year. I'm sure he's never been happier to be off in a prediction in his career.
Emblematic of that resilient spirit in Detroit is the captain, Henrik Zetterberg.
For so long now Pavel Datsyuk has dazzled the NHL with his wizardry with a hockey stick. He has become the big face of the franchise for most fans when they think of this era of Wings. He's phenomenal. But many forget he's not the captain in Detroit now, that's Zetterberg. He gets overshadowed by his high-profile and supremely talented teammate, however Zetterberg has put the Wings on his back since the calendar hit April and has the Wings into the second round. Not bad for a team that wasn't supposed to make it.
Zetterberg had a goal less than two minutes in to Game 7 in Anaheim on Sunday night, a stage he has stood on before, to set a very early tone. Those kinds of goals are so crucial on the road with those stakes on the line. It's such an emotional boon for your team and a bust for the opponent.
He would later add an assist on a Valtteri Filppula goal -- another Wings veteran -- giving him a third straight multi-point game. That's precisely how a captain leads by example.
Including this playoff series, the Wings are 8-3 since April games began when Zetterberg records at least a point, 1-6 when he has failed to hit the score sheet. That's some strong evidence that he is the catalyst in Detroit, the man who still leads the Wings.
A tip of the cap must be given to coach Mike Babcock, who split up Zetterberg and Datsyuk to give the Wings two possession-driving lines on Sunday night. The Wings had the lead but they never relented in their pressure on Anaheim. A good chunk of the final minutes were spent in the Anaheim zone. Instead of going into a shell to protect, the Wings stayed aggressive.
It seemed like every shift saw Zetterberg taking the puck in the zone and starting a cycle or throwing it on net. On this night especially the top two Wings lines really dominated the top two lines the Ducks were throwing out.
The only thing you could say bad about Zetterberg's game on Sunday night was his penalty in the final minutes. He was struck by the dreaded delay of game call and the Ducks got a goal from Francois Beauchemin to make it interesting.
Let's not pretend that the Wings are more than they are at this point, they're still an underdog in the West right now, especially going up against a Chicago team that swept them this season. They drew the team that almost everybody wanted to face in the Ducks, a team that had regressed some in the second half and wasn't playing its best hockey going into the playoffs.
Still, the Wings were pushed and forced to answer in two elimination games. They turned to their captain who has been shouldering the load for weeks and he helped deliver them once again.
It is certainly an unusual spot for the Red Wings as a franchise to be in this role, as a low seed that is being counted out instead of being counted on. But it's something they have been dealing with all season and their battle-tested mettle paid on Sunday. They'll need much more of that in the next round.
The former Boston Bruin was the first black player to play in the NHL

Inclement weather led to the Charlotte Checkers and Bridgeport Sound Tigers playing in front...

The NHL chose the Detroit rocker as its All-Star Game entertainment and not everyone is th...
NHL fans from all over seem to agree on one thing: Hating Kid Rock

The team tweeted on Monday that Shaw would be re-evaluated in 7-10 days

The Montreal forward was hospitalized after taking a Zdeno Chara slap shot to the head