Report: Canadiens offer RFA P.K. Subban two-year contract worth $5.5 million
The Canadiens continue negotiations with restricted free agent P.K. Subban on a contract extension with the latest offer being for two seasons but the defenseman reportedly wants a longer deal.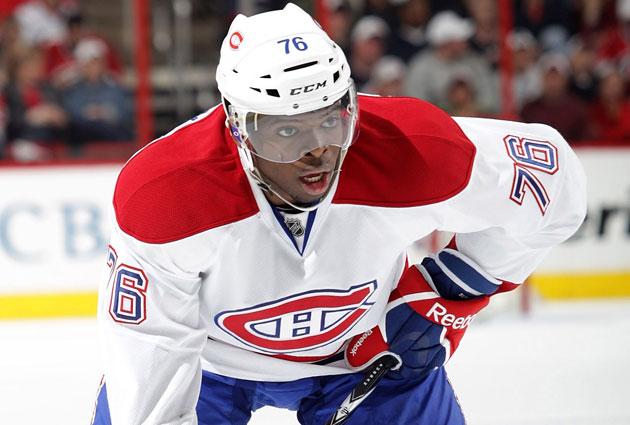 Last season P.K. Subban had 7 goals, 29 assists. (Getty Images)
The Montreal Canadiens are still negotiating with restricted free agent P.K. Subban, trying to get the promising young defenseman under contract for awhile longer yet.
Their latest attempt? A contract offer that is reportedly for two years and $5.5 million. That's according to RDS, the Quebec-based media outlet (courtesy of TSN). That's a $2.25 million cap hit for a pretty good defenseman.
Obviously Subban and his agent haven't agreed to the contract yet. No, he reportedly is looking for a longer term than just two seasons.
For a player of his potential and age, it's not out of the question at all to seek a longer term. He's young enough that making it a three-year deal won't take him into unrestricted free agency, especially if the NHL succeeds in the CBA negotiations of extending the amount of time required to hit the open market.
If Subban is able to to improve and become the player they envision then getting a longer deal now wouldn't be the worst decision in the world. It could save them money in two years when a new extension would be in order.
Frankly, the reported offer seems to be cheap enough already. It's easy to think Subban would be worth more than $2.25 million per season. Even though the report from RDS says he wants a longer term, I wouldn't be surprised if he is looking for a little more money, too. His future is still very bright.
What would be the concern for the Habs, why would they only go for two years to Subban? Well anything beyond three years means that they wouldn't keep control of his contract -- again, that's operating under the current CBA. So for new GM Marc Bergevin anything beyond three years is not something that's appealing. As for not going to that third year, at least not now? Well that's a good question.
Subban did see a 50 percent decrease in his goals last season, seeing those drop from 14 to 7 (and a drop of 9 to 5 on the power play). Maybe that's a minor concern and the Habs want to see his production trend back upward before giving him a longer deal. Obviously his primary responsibility is defense but who doesn't want a star two-way guy on the blue line? Who knows.
Even though we've learned over the years that GMs don't often use them, the longer he stays unsigned by the Canadiens the longer teams have time to consider making an offer sheet.
For more hockey news, rumors and analysis, follow @EyeOnHockey and @StubitsCBS on Twitter and like us on Facebook.
Vegas isn't being quiet about its hot start to the NHL preseason

The blue-liners are set for another big push, but Edmonton's rise is hard to ignore in the...

Meanwhile, the Devils' Brian Boyle isn't sweating his recent cancer diagnosis
Limited-time Warriors-colored jerseys are apparently on the way in January

The 32-year-old forward tells the media he expects to be back on the ice for the Devils op...

It seems it's all as wild as it sounds, with Canadian actor Zack Ward heading a 'West Coast...