Report: Capitals to announce outdoor game in DC on Saturday
The Capitals have a 'major announcement' to make on Saturday and it will reportedly be that an outdoor game is coming to DC in 2014-15.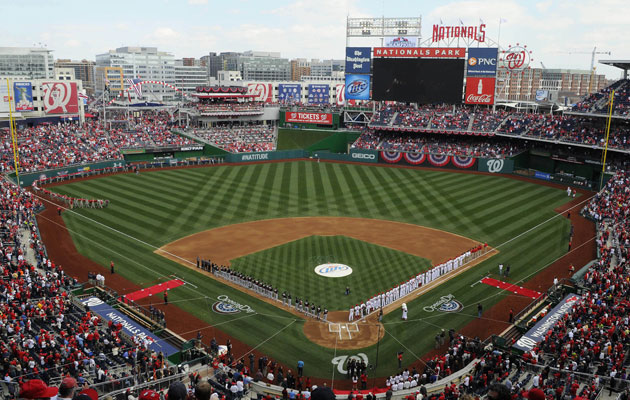 More NHL offseason: Rumors | Top 50 Free Agents | Buyout Tracker | Trades | Transactions
On Saturday the Washington Capitals will be making a "major announcement" at their annual Capitals Convention. Some times these major announcements are rather overstated but in this case it doesn't appear to be the case. This one sounds pretty big.
Sky Kerstein of 106.7 The Fan in Washington -- a regular at Capitals games and practices -- reports that multiple sources say it will be to announce an outdoor game in DC for next season. Further to that, it is expected to be the Winter Classic.
This shouldn't be a big surprise. The Capitals have long been expected to be in the short line to host the next Winter Classic. Owner Ted Leonsis has been pretty open about his hope/belief that the Caps would be playing host to the event in the near future. I've been told that Leonsis has previously been promised an outdoor game.
If this is indeed the big announcement -- and really nothing else seems like it would make sense, they already have a captain in Alex Ovechkin -- there are still other questions to be answered. The biggest would be where the game would be played. While many have envisioned it being on the National Mall, the logistics of trying to build a make-shift arena on the Mall would be too much to ask. I'd put Nationals Park as a strong favorite over FedEx Field or any other location around the area.
The other is who might the opponent be. Considering that we see the same round of teams play in the Winter Classic, you can cut it down to a pretty small list. It's also a relatively safe bet that it will be another team in the Metropolitan Division but perhaps not since those teams have been featured heavily. The Boston Bruins, perhaps?
The Capitals have taken part in one Winter Classic thus far, playing in Pittsburgh in a game that was pushed to prime time because of rain. That would have to be a real concern in Washington as well. The average high in January in Washington is 43 degrees.
The former Boston Bruin was the first black player to play in the NHL

Inclement weather led to the Charlotte Checkers and Bridgeport Sound Tigers playing in front...

The NHL chose the Detroit rocker as its All-Star Game entertainment and not everyone is th...
NHL fans from all over seem to agree on one thing: Hating Kid Rock

The team tweeted on Monday that Shaw would be re-evaluated in 7-10 days

The Montreal forward was hospitalized after taking a Zdeno Chara slap shot to the head