Report: Corey Crawford investigated for spraying heckler with water
Corey Crawford allegedly sprayed a heckler with water in Game 4 in LA, a fan who has reportedly filed a battery report with the LAPD.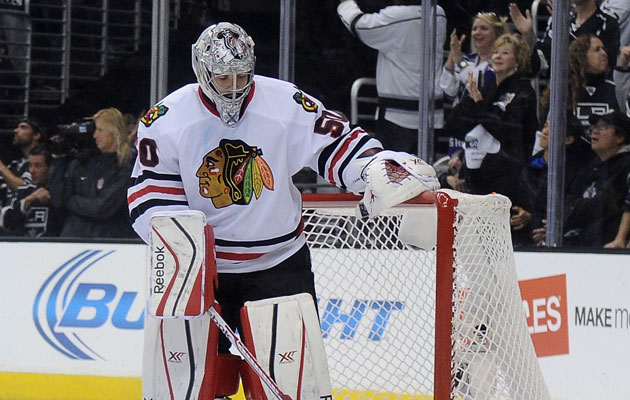 More NHL Playoffs: Schedule, TV listings | Expert Picks | Bracket | Scores | Odds
As a heckler, you have to be careful what you wish for but one Kings fan is apparently trying to profit from just that.
From the file of frivolity, TMZ Sports reports that Blackhawks goalie Corey Crawford is under investigation from the Los Angeles Police Department after Game 4. Why? For allegedly squirting a heckler with water.
We know ... 27-year-old Kings fan Clark Wong filed a BATTERY report Monday night claiming he was "sprayed" by the hockey player at Staples Center.

TMZ Sports spoke with Wong who says he was sitting behind the Blackhawks bench -- and was heckling Crawford -- when the goalie was pulled from the game toward the end of the 3rd period.

That's when Crawford -- who's in the middle of a 6-year, $36 MILLION contract -- allegedly whipped out a water bottle and blasted him right in the face.

Wong says he believes the bottle was filled with backwash -- along with water -- and it has caused serious irritation to his eyes. Wong says he's going to a doctor to get his eyes checked.
Indeed, you better watch out for that backwash, it will get you every time.
Assuming for a second that Crawford did spray this Kings fan, should we even have the word lawsuit in the conversation? In a way, getting that kind of attention is a heckler's aim, it's validation that you're getting under a player's skin. That's another way of saying if a player does something as mild as squirting a little water in your face, buck up.
The TMZ report also states that Wong was ejected from the game in the final minutes for taunting. Typically you have to be going pretty far to get that treatment and a squirt of water from an athlete.
However a report from CBS Chicago quotes the LAPD as saying there is no investigation taking place on Crawford. That could mean that there never was one in the first place or it could mean it's already been dismissed.
It's really difficult to imagine this will be even so much as a distraction for Crawford it's so weak, which might be the aim of a Kings fan in the Western Conference finals as much as anything else. Already Blackhawks coach Joel Quenneville is downplaying it for the stupid waste of everybody's time and money that it is.
"I'm not worried about it, I'm worried about the game, as is Corey." -- Q on water bottle "incident" in LA.

— Nina Falcone (@NinaFalcone) May 28, 2014
Crawford is 9-7 this postseason with a .918 save percentage but has struggled in the last three games against Los Angeles. We doubt those struggles had to do with hecklers.
The team tweeted on Monday that Shaw would be re-evaluated in 7-10 days

The Montreal forward was hospitalized after taking a Zdeno Chara slap shot to the head

Tampa Bay is still No. 1 and Vegas is still up there, but a few others are finally catching...
Army filed an opposition to the use of 'Golden Knights' on the last day that it was permitted...

The NBC rinkside reporter is hoping to return in time for the 2018 Olympics

Here's who wade the cut for the 2018 NHL All-Star Game on Jan. 28 at Amalie Arena in Tampa...