Report: Dan Bylsma 'lost the dressing room,' owners favor change
Penguins ownership still hasn't made any decisions on the futures of Dan Bylsma or Ray Shero but they are said to favor change at head coach after Bylsma lost the room.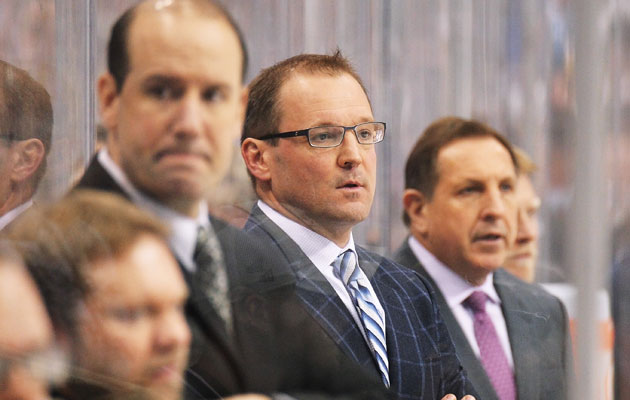 More NHL Playoffs: Schedule, TV listings | Expert Picks | Bracket | Scores | Odds
It's the day after the Pittsburgh Penguins were eliminated from the playoffs by the New York Rangers in Game 7 and still the future isn't looking very good for Dan Bylsma, potentially GM Ray Shero too.
The assumption has been that Bylsma had finally run his course in Pittsburgh if the Penguins didn't advance and that the team would go a new direction. There has been plenty of debate about Bylsma and if he should go or not but the underachieving in the postseason has been a sore point and he could pay the price.
Turns out there might be more to it than just wins and losses. In the latest from Rob Rossi of the Pittsburgh Tribune-Review, the thinking from the Penguins' brass is becoming clearer, and getting perhaps a bit surprising.
Ownership favored firing Bylsma as of Wednesday, the sources said.

Ownership believed Bylsma lost the dressing room this season, specifically the support of franchise centers Sidney Crosby and Evgeni Malkin, the sources said.

Players were unhappy with Bylsma's numerous meetings and long practices and the decreasing sense of fun within the Penguins' daily environment, the sources said.

Crosby and Malkin also grew disenchanted with perceived harsh criticism they received from Bylsma during meetings, the sources said.
Uh oh, the dreaded "losing the room" is never good. Not that there's much reason to doubt Rossi's report but even if it's not all entirely true, it still has the feeling of each needing to go a new direction.
The same thing (reportedly) happened with John Tortorella in New York after last season, leading to his ouster. But there's one very big difference between those two situations; Bylsma is known as being a player's coach. Typically those aren't the types of coaches that are suspect to losing the room.
Somebody who is surely keeping a close eye on what's going on with the Penguins coach is the General Manager Ray Shero, whose job is in almost as much danger as Bylsma's right now. According to Rossi, the ownership group led by Mario Lemieux and Ron Burkle are still weighing his future with no decision made yet. Shero and Bylsma could potentially seen as a pair at this point.
The 45-year-old free agent is taking things patiently as September approaches

The playoff drought might not end immediately, but something is brewing in restocked Buffa...

Former Lightning standout will be guarding the net in style in 2017-18
Devils are still in rebuilding mode, but they have reason for hope thanks to young additio...

Buffalo is in the midst of contract extension talks with Jack Eichel, and the payout could...

Los Angeles isn't rushing to sign the 45-year-old forward any time soon