Report: Dan Cleary's deal with Flyers hits complication, called off
Dan Cleary isn't headed for Philadelphia after all. A complication has arisen and the reported deal between the two sides won't come to be.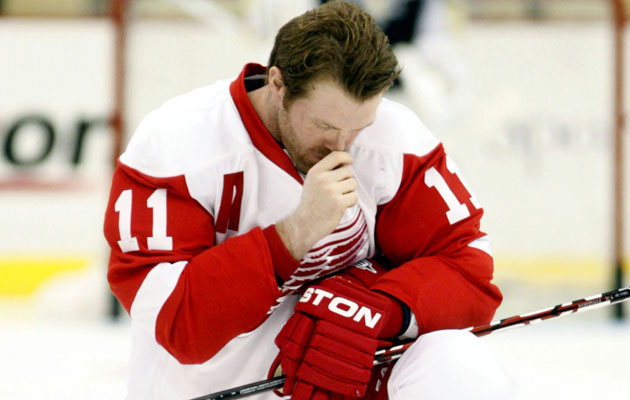 More NHL offseason: Rumors | Top 50 Free Agents | Buyout Tracker | Trades | Transactions
Remember the wide-spread reports of Dan Cleary heading to the Flyers for three years and $7.75 million? Well hold the phone, there might have been a change of plans.
No deal could be officially signed until the season gets underway because the cap issue the Flyers face so technically Cleary was going to show up in Philly on a PTO for camp. He wasn't present on Wednesday when camp opened and now Elliotte Friedman says he might not show up at all.
Not exactly sure why, but it appears as if there is some complication between Daniel Cleary and PHI. Told he will not be joining Flyers.

— Elliotte Friedman (@FriedgeHNIC) September 11, 2013
That's strange, you wonder why there was a change of heart on this. The agreement was reported by numerous people so it's not as though it was just made up or anything, there were even contract details in the report, though GM Paul Holmgren insisted there was no deal in place. Holmgren did confirm, however, that Cleary was invited to camp and he accepted. You have to wonder if this snag has anything to do with the widespread reports of a deal being in place while the team had to bring him in on a PTO?
Still, it might not be the worst news the Flyers ever hear. The contract that was reported was bordering on irresponsable given Cleary's age, ailing knees and dwindling production to go with the Flyers' cap space situation. Now it might not come to fruition at all.
With that it looks like Cleary is once again looking for a job and perhaps it will lead to a return to Detroit but it would have to be at a much lower cost, although their cap situation isn't much better.
Cleary did play in all 48 games last season for Detroit, scoring nine goals and six assists. He added four goals and six assists in 14 playoff games as well.
UPDATE 1: This is news to Holmgren who said on Wednesday he is still expecting Cleary to show up on Thursday for camp.
UPDATE 2: We might see why there is a change of heart at play. From Aaron Ward of TSN:
Hearing a meeting took place today between Dan Cleary,Mike Babcock,and Ken Holland in Traverse City,MI. #TSN #DetroitRedWings

— Aaron Ward (@aaronward_nhl) September 11, 2013
It is never, ever boring in Philadelphia.
NHL players are still disappointed they won't be going to skate in PyeongChang

With Artemi Panarin in the mix and a Vezina winner headlining the defense, Columbus can be...

The league's crackdown on faceoff infractions and slashing penalties isn't without some cr...
Joffrey Lupul spent last season on long-term IR but seems to be saying he's healthy

Early playoff trouble has been evident, but the Wild tout an offense capable of making another...

Why walk with skate guards when you can rollerskate instead?