Report: Flames goalie Miikka Kiprusoff decides to retire
Calgary goalie Miikka Kiprusoff had been considering whether to play one more season or retire. He has reportedly made his decision: retire.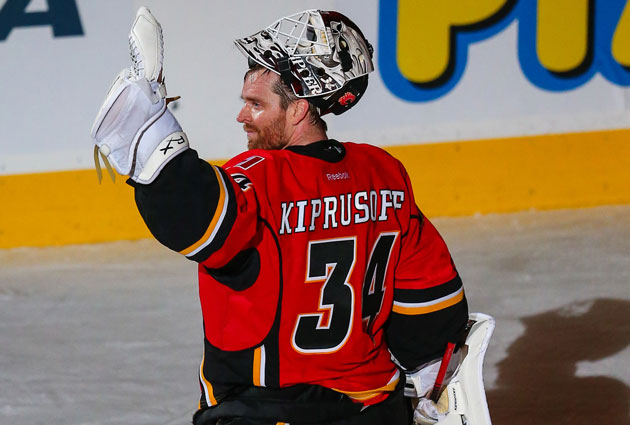 More NHL Playoffs: Scores | TV Schedule | Expert Picks | Odds | Mock Draft | Rumors
The Miikka Kiprusoff era is apparently over in Calgary. The veteran goaltender has decided to retire, according to a Finnish report.
Kiprusoff, 36, would forgo the final season of a contract that has a $5.833 million cap hit. He told a Finnish newspaper as well as the Flames about his decision to hang 'em up. From Juha Hiitela:
Kiprusoff has told to Finnish national team that he is retiring. "If Calgary has not announced it, you guys can do that." #Flames #Kipper

— Juha Hiitelä (@jhiitela) June 25, 2013
This is really no surprise. Kipper was pretty publicly considering retirement once the season ended. You'll recall that it seemed like there was a trade in the works to send him to Toronto at the deadline, but he said no. One of the many reasons that people cited was Kiprusoff could have been playing out his last couple of weeks.
Although, this apparently is a surprise to the Flames. GM Jay Feaster released a statement on the matter and it's ... odd.
"As we indicated when we addressed the media on June 14th, having just spoken with Miikka at that time, we realized that if pushed for an answer Miikka would have said that he was finished with his professional career. In light of our most recent meeting with him, the statement attributed to him by the Finnish National Team does not come as a surprise. However, as we have said consistently, we will continue our dialogue with Miikka."
Whether the club is aware of it, Kiprusoff would go out as one of the all-time great Flames. He has been with Calgary since 2003-04, when he was acquired from San Jose. He was an absolute workhorse over the years, never starting fewer than 70 games after taking over the starting job in 2005-06. This season, he battled some injuries and played in just 24 of 48 games with some pretty abysmal numbers -- a 3.44 goals against average and an .882 save percentage. He certainly wasn't helped by the guys in front of him, but he had a real drop.
Kiprusoff played in 623 career games going 319-213-71. He ends with a .912 save percentage and a 2.49 goals against average. He led the Flames out of the first round of the playoffs only once, but that season he backstopped the Flames all the way to the 2004 Stanley Cup Final. His career playoff numbers bested his regular-season numbers with a .921 save percentage and 2.32 goals against average.
The good news is that the fans in Calgary had the chance to say their goodbye to Kiprusoff. In the last home game of the season, everybody in the Saddledome was aware that could be it for Kipper. They gave him a proper and rousing send-off.
The 45-year-old free agent is taking things patiently as September approaches

The playoff drought might not end immediately, but something is brewing in restocked Buffa...

Former Lightning standout will be guarding the net in style in 2017-18
Devils are still in rebuilding mode, but they have reason for hope thanks to young additio...

Buffalo is in the midst of contract extension talks with Jack Eichel, and the payout could...

Los Angeles isn't rushing to sign the 45-year-old forward any time soon