Report: Greg Jamison has more investors, Coyotes purchase could close soon
Greg Jamison had reportedly been $20 million short in his bid to buy the Phoenix Coyotes. Now according to one report he has additional investors and a deal could close very soon.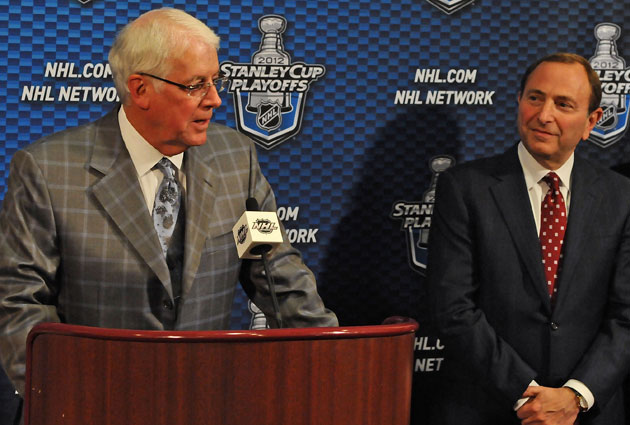 Will Jamison and Gary Bettman host another press conference soon? (Getty Images)
The last time we left Greg Jamison and his bid to buy the Phoenix Coyotes, the reports had him about $20 million short of the NHL's asking price and seeking more investors to help close the gap.
That was then. Now he apparently has done exactly that, securing additional financing according to Mike Sunnucks of the Phoenix Business Journal.
Two sources with knowledge of the three-year-old Coyotes ownership saga say Jamison now has the investors and partners in place to finally buy the Coyotes and a deal could close very soon.

...

One source familiar with the deal said Jamison has secured the money and partners to buy the team and final details are being reviewed by the NHL.
Talk about a quick turnaround in this story.
Everything has pretty much been taken care of up to this point to clear Jamison for landing, all he needed was the cash. If this is true and he indeed has it then we might finally see the finish line in this three-year long headache and the Coyotes might be sticking in the desert for a couple more decades at least.
Sunnucks also notes that an indication that there is something to this, about the sale being close to done, is the fact that Shane Doan remains unsigned. He wants to stay in Phoenix and is giving Jamison the most time possible to allow that to happen. He said before at some point he was going to have to move along and honestly I thought that time would have come by now, but he was probably getting word progress was being made.
So not only might the Coyotes be sticking around for more time in the desert, their captain might be, too.
Still, it has to be worrisome that Jamison has had this much trouble closing the sale and is using a lot of other people's money to do it. Will he be struggling just the same to pay for the team's costs? It's not as if the Coyotes pay for themselves in Phoenix/Glendale.
Hopefully though, not just for the fans in Arizona but those who are just too fatigued by this story, the finish line is two strides away.
For more hockey news, rumors and analysis, follow @EyeOnHockey and @StubitsCBS on Twitter and like us on Facebook.
David Kelly has nailed 43 of his last 54 NHL picks and just released a play for Sunday's m...

A look at 10 veterans who figure to be on the market as Monday's deadline draws near

SportsLine's Mike McClure, a DFS pro with more than $1M in winnings, gives optimal lineup...
Pittsburgh finds itself a new third-line center as it looks to make a third straight run at...

The All-Star is one of the biggest names in the rumor mill, and reports say a move is on the...

The 38-year-old Luongo has been a longtime Parkland resident and is a father of two