Report: Ilya Bryzgalov headed to Sweden to train with SHL team
While Ilya Bryzgalov continues to wait for an offer, he's apparently heading to Sweden to train with an SHL team.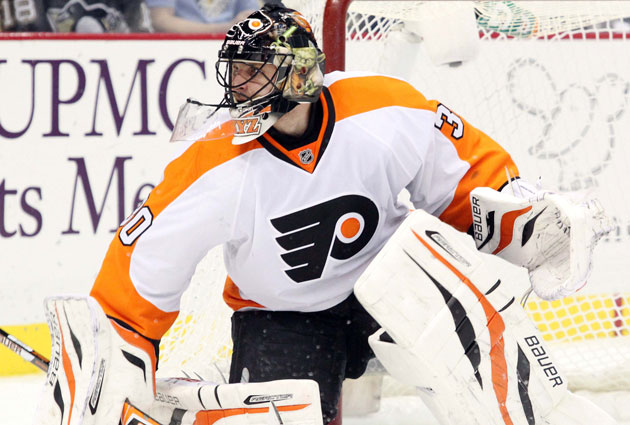 More NHL offseason: Rumors | Top 50 Free Agents | Buyout Tracker | Trades | Transactions
After things got lost a bit in translation last week regarding a KHL team's interest in Ilya Bryzgalov, it has gone back to being all quiet on the goalie front for the former Flyers netminder. There are still no apparent offers for him to play in the NHL -- or anywhere really.
However Bryzgalov won't just be sitting around waiting. Bryzgalov is going to head to Sweden to train with goalie coach Erik Granqvist and the SHL team Farjested. Granqvist tweeted out the news in Swedish, which Kevin Woodley of InGoal Magazine translated into English. Apparently the move is at the suggestion/request of Bryzgalov's agent Ritch Winters. Granqvist later tweeted in English:
I am very excited & inspired to work with & support Ilya Bryzgalov next week here in Karlstad. Great together w @FredrikPWentzel & D.Taylor.

— Erik Granqvist (@ErikGranqvist) July 31, 2013
My, how far Bryzgalov has fallen in a short amount of time. It was just a few months ago that he was one of the highest-paid goaltenders in the world for a big-market NHL team, now he's on his way for training in Sweden.
At this point it seems like as good of a move as any. It would also indicate that there likely isn't much on the horizon for Bryzgalov right now, especially in the NHL, which should be no surprise. There aren't a whole lot of teams looking for goalies right now, as in possibly none. Maybe this will yield an opportunity in Sweden or somewhere else for Bryz.
Remember, he is not as bad as he looked in Philadelphia -- nor is he likely as good as he looked at the end of his time in Phoenix. But right now he's a goalie who could use some confidence and perhaps this will help him get there. A goalie can't be effective if he isn't on top of his mental game as well as physical game.
It's a good thing he has years of buyout payments coming his way from the Flyers, eh? Makes not having a full-time job a little easier to swallow.
The puck didn't go in the net but the skater did!

Another sign that Houston is a potential destination for an NHL relocation
The two teams combined for 111 penalty minutes and five ejections

The veteran Minnesota goaltender has recorded three consecutive shutouts

The historic start for the NHL's newest team has come largely from unprecedented balance in...