Report: Jeremy Roenick visits Seattle, wants in on possible team
Jeremy Roenick was reportedly in Seattle on Monday with an investment team to talk about an expansion team in the city for which Roenick wants to be a 'front man.'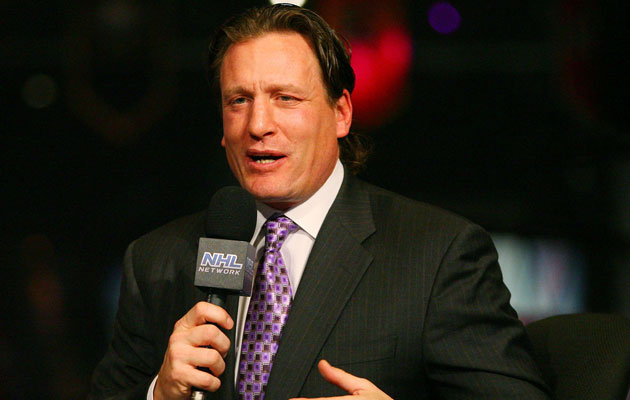 More NHL: Scores | Standings | League Leaders | Odds | Injuries | Power Rankings
No matter how much the NHL denies it, the expansion train isn't slowing down.
There has been an assumption for a couple of years now that Quebec City would soon welcome back the Nordiques, something that grew just a little more steam when TVA, which is owned by Quebecor, was granted French-language broadcast rights in the new Canadian television deal. The chairman of Quebecor, Pierre-Karl Peladeau, has been at the fore of building the new arena in Quebec. It looked like all the stars were aligning.
The other city that has been a primary focus of expansion recently has been Seattle. With investor Chris Hansen doing all he can to get a new arena built in Seattle to welcome back an NBA team to the area along with potentially attracting the NHL, the Pacific Northwest city has been a hot spot for speculation.
A report from King 5 News' Chris Daniels, who has covered every development in Seattle's arena quest, on Monday night won't do much to cool the enthusiasm.
Hansen is coy about whether the project could start with an NHL team first. The Memorandum of Understanding only provides public financing if an NBA team is acquired.

The prospects for the NHL are better than the NBA at this point.

However, a source who was in the meeting, says NHL legend Jeremy Roenick was in Seattle on Monday, along with an investment team, to discuss an expansion franchise and working with Hansen. It is believed Roenick wants to be the "front man" for the NHL franchise. He made an attempt to be part of a group to bring the Phoenix Coyotes to Seattle earlier this year.

The NHL would need to award an expansion franchise to a well heeled group, likely based on another conditional agreement to be a partner with Hansen in a new building. It's unclear how quickly that could all come together, or what it would mean for construction on the project.
This isn't the first time that Roenick has been mentioned with the possibility of a team in Seattle. When it was reported that Seattle was set up as Plan B if the Coyotes were to relocate, Roenick was going to be a major player in that as well.
Think about that for a second, though: isn't it worth it to get a team in Seattle if that meant that Roenick were in a leading capacity for an NHL team? Imagine how fun it would be if JR were the guy calling the shots in an organization. Seems like it should be done for that reason alone.
Any deal that involves the NHL without the NBA would require some changes to the current Memorandum of Understanding between Hansen and the city of Seattle for financing, but perhaps that could be done. Hansen hasn't expressed interest in owning a hockey team himself -- the apple of his eye is the NBA -- but you can understand why he may be interested in getting a building started with just an NHL team; an arena actually built would help him in his goal of getting the SuperSonics back.
As long as the NHL remains with one conference that consists of 16 teams and the other with 14, the talk of expansion will persist and it seems to be that at every turn, Roenick is somehow involved with the potential future of professional hockey in Seattle.
Before anything else, the NHL has to decide that it's the right time to expand and there's no telling when that might or might not happen. But if/when the time comes, Roenick seems to be interested in having a setup in Seattle ready to handle it.
The expansion Golden Knights officially moved into first place in the NHL on Sunday

The former Boston Bruin was the first black player to play in the NHL

Inclement weather led to the Charlotte Checkers and Bridgeport Sound Tigers playing in front...
The NHL chose the Detroit rocker as its All-Star Game entertainment and not everyone is th...

NHL fans from all over seem to agree on one thing: Hating Kid Rock

The team tweeted on Monday that Shaw would be re-evaluated in 7-10 days