Report: Jimmy Howard joins Ryan Miller, Jonathan Quick on USA roster
The three goalies for Team USA in the Olympics is reportedly set as Jimmy Howard will join Ryan Miller and Jonathan Quick on the team in Sochi.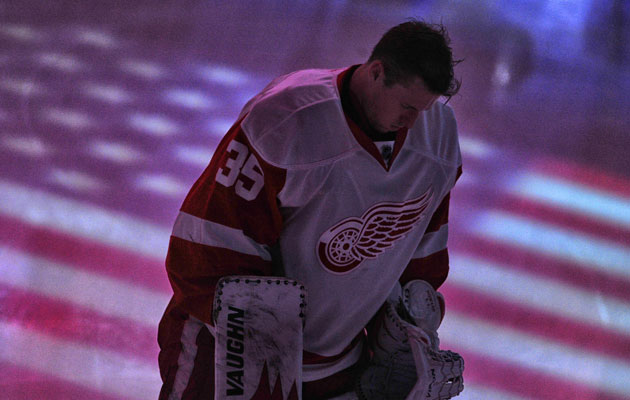 More NHL: Scores | Standings | League Leaders | Odds | Injuries | Power Rankings
The United States will unveil their Olympic hockey roster at the conclusion of the Winter Classic on Wednesday in Ann Arbor, Michigan but there won't be much suspense around the announcement of the three goaltenders.
It has become abundantly clear through this season that 2010 starter Ryan Miller would be on the team, playing very well in Buffalo, and Jonathan Quick, despite struggles and injury issues, would almost certainly be there given his solid track record. The Question has become who the third goalie would be with quite a few options in the mix.
Well according to Helene St. James of the Detroit Free-Press, the decision has been made. It will be Red Wings goaltender Jimmy Howard.
Official announcement to come Wednesday, but expect USA Hockey goalies to be Jonathan Quick, Ryan Miller and #RedWings Jimmy Howard.

— Helene St. James (@HeleneStJames) December 29, 2013
This report seemed to come as a surprise to a lot of people but it shouldn't. Howard isn't having the best season of his career and he too has been beat up with some injuries of late, but Howard had a good track record both in the NHL and with USA Hockey.
That goes a long way in deciding the goalies to take and those had to be big factors against the inclusion of Ben Bishop, who has statistically been the best American goalie in the league this season. He was part of the USA squad at the World Championships last summer and lost his starting gig to John Gibson and is having the best season of his career. The track record isn't there. Cory Schneider is another name right there in the hunt but he has been splitting time in the New Jersey net all season with Martin Brodeur, which certainly didn't help his case.
Really, we're probably talking about the third goaltender here and it is likely to be inconsequential as far as playing time goes. The third goalie is not likely to play much if at all. But it is important to each of the individuals involved, play or not everybody wants to wear the sweater of their country in the Olympics.
Coming into the season the USA looked to be absolutely loaded in net and while that perception has changed some given the down numbers for guys like Quick and Howard, it's still certainly not a weakness. Miller has been very good on a very bad Buffalo team and has probably earned the No. 1 spot again and as we saw in 2010, he is capable of playing well enough to lead the USA to a great showing.
The decision would likely be met by anger from some fans, but it could also make sense

Toronto shoots to the No. 1 spot, just ahead of the Chicago Blackhawks

The Penguins' standout is at it again
Gary Bettman all but reverses course from his September comments on anthem demonstrations

The 'Washington Post' says many teams have stopped booking stays at Trump-owned properties

New Jersey has the long-term promise; Vegas is nothing like an expansion pushover