Report: Lindy Ruff nearing deal to be Stars' next coach
After a long, exhaustive search, the Dallas Stars are zooming in on Lindy Ruff as their next coach, according to President Jim Lites.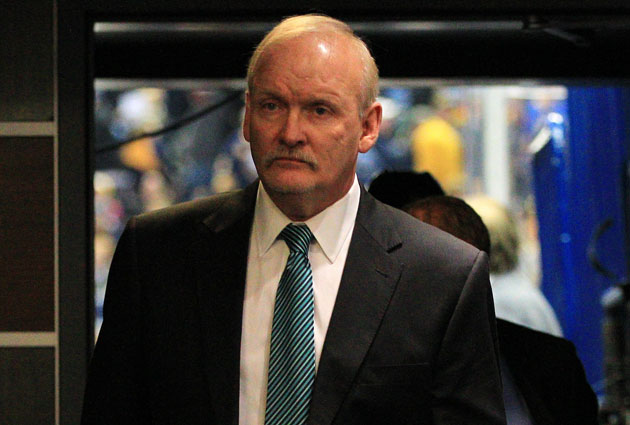 More NHL Playoffs: Scores | TV Schedule | Expert Picks | Odds | Mock Draft | Rumors
After taking their time through a comprehensive search, it appears as though the Dallas Stars are zeroing in on a new head coach: Lindy Ruff.
Travis L. Brown of the Fort Worth Star-Telegram says that's the plan right now, according to Stars President Jim Lites, barring anything unforeseen that would derail the process.
"It's [general manager] Jim Nill's play. He's done an exhaustive review of talking to several candidates, at least 10, about coaching the Stars. Lindy Ruff is in town meeting with Jim. I saw him as I was leaving the Stars Center. He's a guy I've known and always respected," Lites said.

"We respect Lindy a lot. I think he would be a great fit for us. I don't think the deal is done, but it would be a good thing for the Dallas Stars if he is hired," Lites added. "I don't think there is anything standing in the way of it other than getting Jim and Lindy together on money."
As soon as the Stars job opened, Ruff was mentioned as a possibility to take the position. He was the bench boss for 15 seasons in Buffalo before he was fired mid-season this year. Most in the game didn't expect that Ruff would be out of the game for long, and it looks like they were right.
In addition to Ruff, new Stars GM Jim Nill had been busy conducting an exhaustive search. It was widely reported that the Stars had offered the position to Alain Vigneault, but he declined, instead taking the same position with the Rangers. John Tortorella is another name that came up in the process, along with several other candidates.
It was a long time ago now, but it is an interesting position for Ruff to take from a historical standpoint. Of course, you'll remember -- Brett Hull will remind you -- that Ruff's Sabres lost in controversial fashion to the Stars in the Stanley Cup Final back in 1999. That has little to no impact today, but it's a fun little factoid.
Overall in Buffalo, Ruff had a record of 571-432-78, going as far as the conference finals on four occassions, reaching the Cup Final just the one time in 1999.
This will not leave your memory any time soon

Vegas isn't being quiet about its hot start to the NHL preseason

The blue-liners are set for another big push, but Edmonton's rise is hard to ignore in the...
Meanwhile, the Devils' Brian Boyle isn't sweating his recent cancer diagnosis

Limited-time Warriors-colored jerseys are apparently on the way in January

The 32-year-old forward tells the media he expects to be back on the ice for the Devils op...