Report: Matt Stajan re-signs with Flames for four seasons
The Calgary Flames have reportedly re-signed veteran Matt Stajan to a four-year, $12.5 million contract.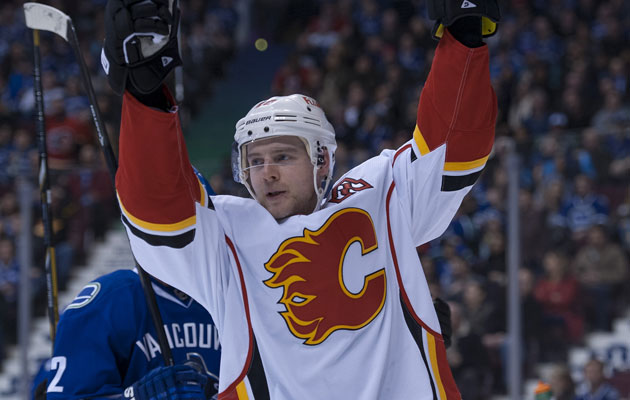 More NHL: Scores | Standings | League Leaders | Odds | Injuries | Power Rankings
Even though the Calgary Flames don't have an actual general manager at the moment, that didn't stop them from re-signing veteran forward Matt Stajan on Monday.
The deal, which has been widely reported but not actually announced quite yet by the Flames, is for four seasons and a reported $12.5 million according to Elliotte Friedman of the CBC. That's a $3.125 million cap hit, a little below his current $3.5 million hit.
Since Jay Feaster was fired as the Flames GM, President of Hockey Operations Brian Burke has been handling the team's business, meaning he was involved in Stajan's signing. The small bit of irony there is that when Burke turk over the Maple Leafs, one of the things he did was trade Stajan to Calgary in the deal that netted Toronto Dion Phaneuf.
Stajan has seen his numbers go down since he was traded to Calgary in 2010, though he's on track for perhaps his best season in Calgary thus far. In 41 games the 30-year-old has seven goals and 10 assists while playing 18:28 per game. Every rebuilding team needs some veterans around and clearly the Flames have identified Stajan as a guy that want for that role.
Erik and Melinda Karlsson announced they were expecting their first child back in November

This could have ended a lot worse for the Kings defenseman

Jay Inslee dropped the name of a Seattle hockey team this week, but was it intentional?
Nashville has to be favored to return to the Stanley Cup Final, but Columbus is suddenly on...

Boomer's daughter is now engaged to the Toronto Maple Leafs winger

The bottom line on the NHL's proposed playoff expansion is all about the bottom line