Report: Miikka Kiprusoff expected to remain in Calgary
Calgary Flames goaltender Miikka Kiprusoff is likely to remain with the team.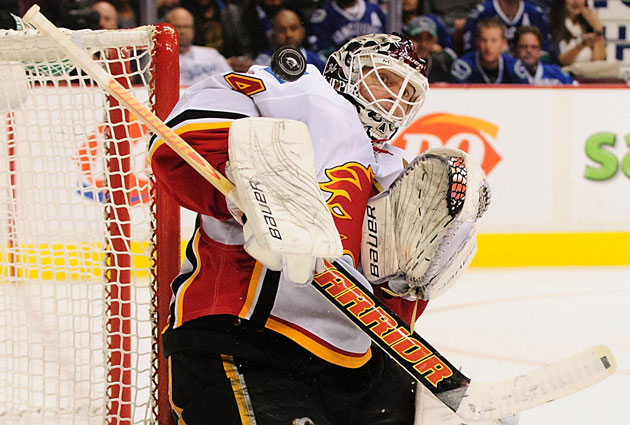 After being mentioned in trade rumors over the past couple of weeks goaltender Miikka Kiprusoff is expected to remain with the Calgary Flames, according to reports from TSN's Darren Dreger and Sportsnet's Roger Millions.
Dreger adds that Kiprusoff could retire after the season.
This, of course, is good news for the Toronto Maple Leafs. Yes, that's right. The Maple Leafs. Toronto was the rumored destination for Kiprusoff, and it just never made any sense given how much he has struggled this season and how good Toronto's two young netminders -- James Reimer and Ben Scrivens -- have performed this season.
And that doesn't even take into account the sizable cap hit Kiprusoff would have brought with him to Toronto (or any other possible destination).
Kiprusoff has been with the Flames since the start of the 2003-04 season. He's having what has been statistically the worst year of his career at age 36. In 18 appearances, he has posted a 6-10-2 record to go with a league-worst .868 save percentage.
J.T. Brown, who raised his fist during the national anthem, meets with Tampa Police Depart...

The decision would likely be met by anger from some fans, but it could also make sense

Toronto shoots to the No. 1 spot, just ahead of the Chicago Blackhawks
The Penguins' standout is at it again

Gary Bettman all but reverses course from his September comments on anthem demonstrations

The 'Washington Post' says many teams have stopped booking stays at Trump-owned properties