Report: Mike Yeo expected to have new deal to remain Wild coach
Mike Yeo's contract is up with this season over but don't expect him to leave Minnesota. The coach and team are reportedly expected to reach a new deal soon.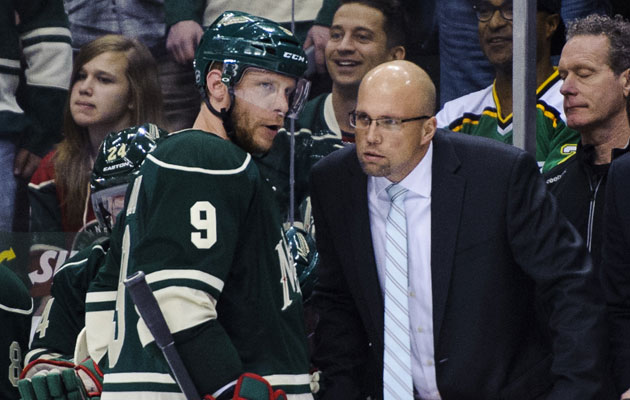 More NHL Playoffs: Schedule, TV listings | Expert Picks | Bracket | Scores | Odds
Minnesota Wild coach Mike Yeo has faced plenty of uncertainty over the past year or so. There were some that thought he might be fired last season but the Wild brought him back for the final season of his contract.
Still, even after a strong regular season that landed them in the playoffs, the questionw as being asked; will the Wild re-sign Yeo? The answer appears to be yes.
From Chad Graff of the Pioneer Press:
Coach Mike Yeo is expected to agree to a new contract with the Minnesota Wild soon, people familiar with the situation told the Pioneer Press.

Though contract negotiations have not begun, both sides expressed interest in getting a deal done. Yeo's three-year contract runs through the end of June, but a new deal is expected well before that ends. Sources said they were optimistic that negotiations would not take long.
This shouldn't be much of a surprise at all. There were questions all the way up to the start of the playoffs but this postseason had to have wiped all of those away. The Wild won a playoff series for the first time in 11 years.
It wasn't just that, though, but the job that Yeo has done has been very impressive. He's worked in rookies rather seamlessly, yes, but he saw an issue from the last couple of seasons with the Wild and their puck possession problem and he tried to fix it. He got the Wild to start focusing much more on carrying the puck in and it has worked pretty well as the Wild have improved greatly in the possession department.
They have grown so much that for a lot of the series with the Blackhawks, the Wild were actually the team controlling play. It wasn't just that the Wild made it to the second round and gave Chicago all it could handle, it was how they did it.
Yeo, the NHL's youngest coach at 40 years of age, has a 104-82-26 record in his three seasons behind the Wild bench.
The puck didn't go in the net but the skater did!

Another sign that Houston is a potential destination for an NHL relocation
The two teams combined for 111 penalty minutes and five ejections

The veteran Minnesota goaltender has recorded three consecutive shutouts

The historic start for the NHL's newest team has come largely from unprecedented balance in...