Report: Mikhail Grabovski, Capitals agree on one-year contract
Mikhail Grabovski and the Capitals have reportedly come to an agreement on a one-year deal for $3 million.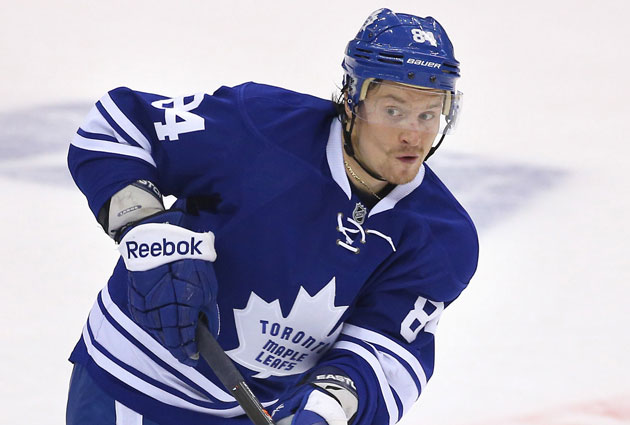 More NHL offseason: Rumors | Top 50 Free Agents | Buyout Tracker | Trades | Transactions
The long wait for Mikhail Grabovski to sign somewhere appears to be nearing an end.
As initially reported by a station in Belarus, Grabovski and the Capitals have come to an agreement on a one-year deal, a report seconded by Aaron Ward of TSN on Thursday evening. Thus far the Capitals have yet to announce the deal but it could come as soon as Friday.
According to the initial report from Belarus, the contract will be for $3 million. Just like that, the Capitals got a great deal on a top-six centerman.
The fit with the Capitals is perfect. Ever since Grabovski became a free agent, the Capitals have seemed like an ideal landing spot, it was just a matter of would they go try and sign him. Washington always seems to be trying to patch that whole in the second-line center spot. They had it last season in Mike Ribeiro but he left in free agency. Without Ribz, the Caps were likely looking at the 2C spot going to Brooks Laich. While not a terrible option, it's not entirely ideal either, especially with his recent injury woes.
In addition to the offense he can give (you can realistically expect 50 points), he is a good two-way center, a little stronger in his own end than Ribeiro, who is a more prolific offensive player/play-maker.
Grabovski was bought out by the Maple Leafs just before free agency started and has been on the market since. His numbers were down last year but so were his minutes and his role. Often times he was playing on the fourth line, not in the top six where he had been before. It led to him scoring just nine goals and seven assists.
However in the previous two seasons he had more than 50 points and at least 23 goals (29 in 2010-11). Given a spot in the Capitals' top six and increased minutes, there's no reason to think Grabovski couldn't turn those production numbers back around, it's hard to do a lot of damage in 15:34 per game.
Los Angeles isn't rushing to sign the 45-year-old forward any time soon

The University of Denver star and Hobey Baker Award winner is drawing interest

Intrigue is high in Arizona after a wild offseason, but expectations should still be tempe...
Players are set to give personalized messages for Adidas' former hockey equipment brand

The 40-year-old center is returning to the Wild after a successful run in Pittsburgh

Edmonton locks up its 21-year-old RFA a month after McDavid's historic extension