Report: NHL planning international Champions Cup tourney for 2016
The Champions League we see in soccer could be coming to hockey. A report says the NHL is planning on one with European clubs for 2016.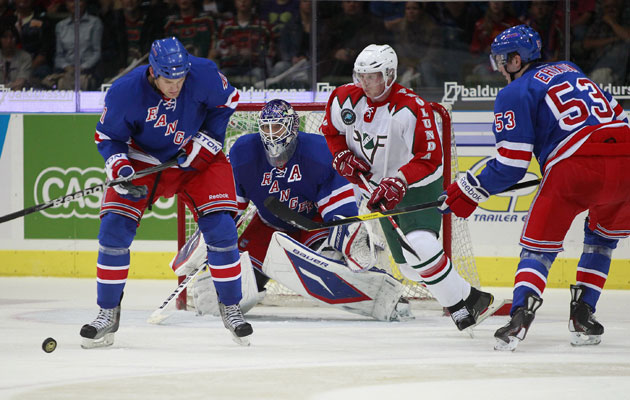 More NHL offseason: Rumors | Top 50 Free Agents | Buyout Tracker | Trades | Transactions
I am relatively new to the European club soccer scene, I'm getting my first real taste of it this year and I'm really coming around. The promotion/relegation systems are awesome and so is the idea of a Champions League, where the best teams from all the individual leagues play a separate, in-season tournament to determine which is the best club team in all of Europe.
That's a roundabout way of saying it's a really cool idea and also saying that apparently the NHL is considering getting involved with such a thing in hockey. That's according to Chris Botta of the Sports Business Journal.
Besides World Cup of Hockey, NHL plans to a run a Champions Cup tournament featuring top NHL and European clubs by 2016. @SBJSBD

— Chris Botta (@ChrisBottaNHL) September 10, 2013
Yeah yeah, World Cup of Hockey coming back, yadda, yadda. But let's get to that Champions Cup thing. I have one thought on this: Make it happen, NHL.
As it stands now the season is already incredibly long and travelling across the Pond to play Champions league games would be awfully tough and presumably put teams at a competitive disadvantage to win what any hockey player truly cares the most about, the Stanley Cup, but it would be awesome.
Can you imagine the Blackhawks playing host to Frolunda from Sweden? Not only would it be an incredible pairing of team logos but it would be really awesome to see other games that mattered.
Further, you can assume that the KHL would be involved in this as well. It would finally be a chance to determine if the NHL is indeed a vastly superior league. And if the KHL were involved you could have some really interesting possibilities. Who wouldn't love to see Ilya Kovalchuk and SKA St. Petersburg play the New Jersey Devils? Or what about CSKA Moscow with Alexander Radulov vs. the Predators? It would work the other way too like Alex Ovechkin and the Capitals playing Dynamo Moscow. The intriguing possibilities are endless.
Frankly I have no idea how it would work, the logistics of it seem incredibly tough. Not only is the travel an issue but so is the scheduling and the rink sizes. Since they play on larger rinks in Europe, that would be an obstacle.
All I do know is I would love to see this happen if it could somehow be figured out. It's one of the many things European soccer has nailed and it would be great to see it in hockey next.
Saturday's showdown will serve as a rematch of one of the NHL's first-ever regular season...

Stacia Robitaille says Donald Trump told her in an elevator that she was coming home with...

Vladislav Yeryomenko was the Teddy Bear Toss goal scorer for the Calgary Hitmen
The Golden Knights are finally getting their No. 1 goalie back after a 25-game absence

Washington has won four straight, and the Kings are also on a tear right behind the Lightn...

The NHL says it's only interested in expanding to Seattle, but here's a look at all the moving...