Report: Red Wings hire architect to design new arena in Detroit
The Detroit Red Wings have reportedly hired an architect to begin designing a new arena for the team in downtown Detroit.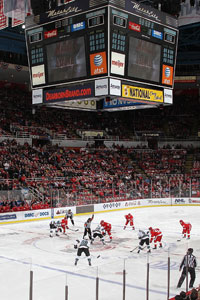 Joe Louis Arena has been the Wings' home for 33 years. (Getty Images)
While the fans aren't exactly lining the streets of Detroit chanting "Hey, hey! Ho, ho! The old Joe has got to go!" there is at least awareness that a new arena would be nice. Joe Louis Arena is 33 years old now and is outdated compared to most of the NHL's barns.
There has been talk in Motown for a while to get the Red Wings a new arena to call home, and one preferably in Detroit itself, not in the 'burbs like the Pistons' home in Auburn Hills.
Now there is some hope it could happen after a report from the Sports Business Journal on Monday that an architect has been hired to look at a new arena.
The Detroit Red Wings have selected an architect to design a new NHL arena in downtown Detroit, a sign the team is moving ahead with the project. Signs point to the Red Wings replacing Joe Louis Arena.
Also, according to the report, the proposed arena would have a capacity around 18,000 and would likely be somewhere downtown in Detroit. Sounds like a winner on all fronts, at this point at least.
Financing is always another issue altogether, but owner Mike Ilitch is the kind of owner who can make that happen for his franchise, especially when he's already gone through the process of getting a new stadium for MLB's Tigers, another team that he owns.
Of course this is incredibly preliminary. That would explain why neither the Wings nor the company that is reported to have been hired, HKS, would comment on the matter to Josh Slagter of MLive.com.
HKS officials did not comment and Karen Cullen, a corporate spokeswoman for the Red Wings, told Muret there was nothing new and added "our organization has been on record saying we'd like to have a new arena in downtown Detroit."
With the "curb your enthusiasm" note already taken care of, this is a great sign that the Wings have reportedly hired an architect. That means they are getting serious about this and making steps in making this dream a reality.
The Wings are one of, if not the best, organizations in hockey. It would only be fitting for them to get one of the best arenas in the league as well.
For more hockey news, rumors and analysis, follow @EyeOnHockey and @BrianStubitsNHL on Twitter and like us on Facebook.
The former Boston Bruin was the first black player to play in the NHL

Inclement weather led to the Charlotte Checkers and Bridgeport Sound Tigers playing in front...

The NHL chose the Detroit rocker as its All-Star Game entertainment and not everyone is th...
NHL fans from all over seem to agree on one thing: Hating Kid Rock

The team tweeted on Monday that Shaw would be re-evaluated in 7-10 days

The Montreal forward was hospitalized after taking a Zdeno Chara slap shot to the head