Report: Sens owner meets NHL on Matt Cooke forensic investigation
Remember Senators owner Eugene Melnyk's forensic investigation into Matt Cooke? Apparently it remains ongoing as he met with the NHL.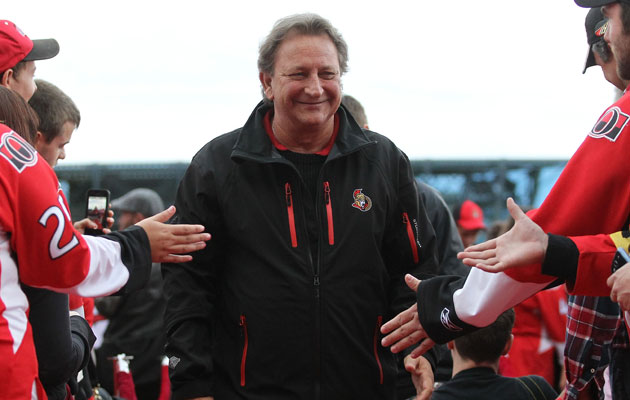 More NHL: Scores | Standings | League Leaders | Odds | Injuries | Power Rankings
Is CSI: Ottawa is back for a second season?
Last season you'll recall our detective, Senators owner Eugene Melnyk, was charging former Penguins (now Minnesota Wild) forward Matt Cooke of injuring defenseman Erik Karlsson deliberately by stepping on his Achilles' tendon to sever it. Being the hardened detective that he is, Melynk vowed to get to the bottom of the matter using forensics and that he would then present his findings to prove beyond a shadow of a doubt that Cooke was guilty.
The laugh track might have accompanied the episode but it was no laughing matter to Melnyk because apparently he is following through on his promise. TSN's Bob McKenzie has the tweets.
Interesting, on day of Torts hearing in NYC, OTT owner Eugene Melnyk, GM Bryan Murray, NHLPA exec director Don Fehr seen going into NHL HQ.

— Bob McKenzie (@TSNBobMcKenzie) January 20, 2014
It's believed they're there as part of Melnyk's forensic investigation into Matt Cooke's skate cut on Erik Karlsson last season.

— Bob McKenzie (@TSNBobMcKenzie) January 20, 2014
Melnyk maintained at time of incident that Cooke did it intentionally and vowed to prove it. NHL exonerated Cooke at that time.

— Bob McKenzie (@TSNBobMcKenzie) January 20, 2014
*Cue the dramatic music* Maybe Melnyk found what he needs to put Cooke in the penalty box.
In all seriousness, the fact that this story is still alive is pretty amazing. How Melnyk was going to prove what happened, even with the help of some form of forensic evidence as he promised, remains to be seen. Unless he was able to revisit the moment in the mind of Cooke, it's pretty impossible to prove.
And that's assuming that Cooke did it on purpose, something that I'm not willing to assume at all. Accidents happen, it was an accident. The Senators still made the playoffs and Karlsson returned and is back at full strength this season. Why this is even worth pursuing anymore is almost as big of a mystery as how Melnyk ever intended to prove this.
Who needs prime time television when you have NHL hockey?
Former Lightning standout will be guarding the net in style in 2017-18

Devils are still in rebuilding mode, but they have reason for hope thanks to young additio...

Buffalo is in the midst of contract extension talks with Jack Eichel, and the payout could...
Los Angeles isn't rushing to sign the 45-year-old forward any time soon

The University of Denver star and Hobey Baker Award winner is drawing interest

Intrigue is high in Arizona after a wild offseason, but expectations should still be tempe...