Report: Several coaches 'irate' at Ron Rolston's 'player selection' fine
Sabres coach Ron Rolston was fined for 'team conduct and player selection' from Sunday's brawl and some coaches aren't happy about it.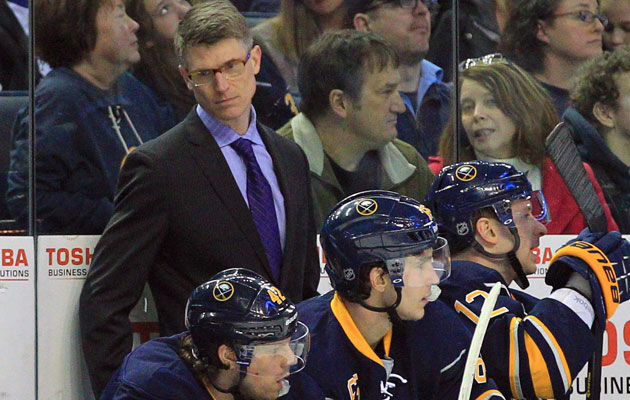 NHL previews: Atlantic Division | Metropolitan Division | Central Division | Pacific Division
When Buffalo Sabres coach Ron Rolston was fined earlier this week for "team conduct and player selection," there were a lot of people perplexed by the decision. Specifically, it was the term "player selection" that was so mystifying; it was an unheard of charge and seemed out of line.
Well there are a few coaches across the league who agree and are upset. Actually, according to Chris Stevenson of QMI Agency, there are coaches who are "irate" over the fine to Rolston. It leaves them with questions of their own.
One coach contacted by QMI was fuming with the decision to fine Rolston.

"So what am I supposed to do now?" he mused. "Do I call the ref over and call timeout so I can call [league vice-president of hockey operations] Colie Campbell and ask him who I can put on the ice?"

He said he was upset enough over the fine that he was thinking about refusing to do in-game interviews as a protest.

"What [Rolston] did was pretty much what a lot of us would have done in those circumstances," said another coach. "Now the league is going to tell who we can and who can't put on the ice? I have no problem with discipline for our actions, but dictating 'player selection' crosses a line in my mind."
Further, the report says that one coach was in the process of getting a united front of coaches to question the fine because really, each of them could find themselves in the exact same spot and seeing something like "player selection" being dicated by the league is a concern. Since when can a coach be told who he can play when?
If the fine would have just ended at "team conduct" there would have likely been little questioning or blowback. The spirit of the fine is not something I disagree with; everybody knows what the NHL is alluding to when talking about player selection in the choice to keep John Scott on the ice with his reputation/role.
This is just going to futher stoke the flames of The Code conversation that is ongoing and its evolution/influence in the game. The water is getting murkier by the day and some coaches are concerned.
Stacia Robitaille says Donald Trump told her in an elevator that she was coming home with...

Vladislav Yeryomenko was the Teddy Bear Toss goal scorer for the Calgary Hitmen

The Golden Knights are finally getting their No. 1 goalie back after a 25-game absence
Washington has won four straight, and the Kings are also on a tear right behind the Lightn...

The NHL says it's only interested in expanding to Seattle, but here's a look at all the moving...

The NHL says it is only looking toward Seattle for the next expansion team