Report: Teemu Selanne will come back for another season at age 42
According to a report from Finland, Teemu Selanne is coming back for yet another season in the NHL. Fans everywhere rejoiced.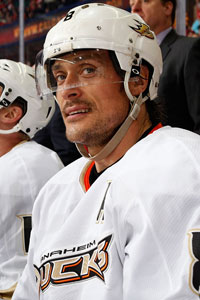 Selanne holds about every Finnish NHL record he can. (Getty Images)
Teemu Selanne fans rejoice, the Finnish Flash has reportedly decided to come back for another season with the Anaheim Ducks. That's according to a report from Finnish site Veikkaaja.
Thanks to the magic of Google translate, here's more or less the gist of the story, I'm assuming you can read through the garbled and direct translation to extract the meaning.
In practice, only a major injury, or some other setback would not change the ridge plans. He has been on the ice in Anaheim, and work-out will continue over the summer in Finland.
Basically, it's time to negotiate a new deal with the Ducks, who I'm sure are happy to have Selanne back for another go.
Selanne, who will turn 42 in two weeks, was still one of the best players the Ducks had last season. He scored 26 goals and had 40 assists while playing a full 82 games for the first time since 2006-07. The point is he still can play and until his numbers drastically drop, the Ducks and fans must be thrilled he's coming back. There are not many players more fun to watch than Selanne, even after all these years.
The only thing that seemed like it could have stopped a return from Selanne was injury. Considering he didn't deal with anything of substance in that department last season, a return seemed on the likely side before this report. All of that despite the season the Ducks just suffered through.
Selanne was about the only force for the Ducks in the early part of the season, producing while the rest of the team slumped and Anaheim fell fast out of the gate, something they couldn't recover from. The frustration did seem to get to Selanne who, after a loss to the Capitals early in the season, showed a rare level of anger by throwing a water bottle against a wall in the hallway.
However there was some hope with the way the Ducks played in the second half under new coach Bruce Boudreau. Perhaps Selanne is going to go for another push with Anaheim. Or maybe he is just still enjoying it all too much. If he's healthy and productive, why not?
You know what, who cares why? All that matters is Selanne is coming back. I have a feeling there will be a few extra butts in the seats for all of the Ducks' road games this season.
H/t to NHL Gossip
For more hockey news, rumors and analysis, follow @EyeOnHockey and @BrianStubitsNHL on Twitter and like us on Facebook.
David Kelly has nailed 35 of 42 NHL picks and he just locked in a selection for the Ottawa-Nashville...

SportsLine's Mike McClure, a DFS pro with more than $1M in winnings, gives optimal lineup...

Vegas ascends to the top of the league, but plenty of formidable contenders are right on their...
SportsLine's Mike McClure, a DFS pro with more than $1M in winnings, gives optimal lineup...

Smith-Pelly confronted the fans from inside the penalty box before they were escorted out

The NHL will be a no-show in Pyeongchang, and it could be the norm for future Olympics