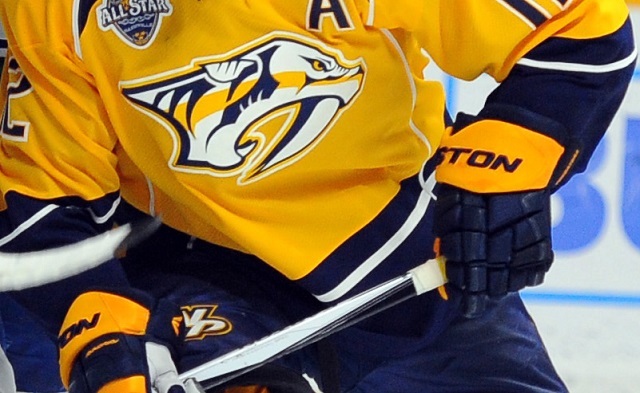 The Nashville Predators have been vocal about their desire to sign 2012 third-round draft pick and Harvard University forward Jimmy Vesey. After his senior season ended Friday, he could sign on the dotted line and be in the Preds lineup already. That hasn't happened yet and by the sounds of things, it won't happen at all.
TSN's Bob McKenzie reported Monday that Vesey has informed the Predators of his intention to explore free agency.
Representatives for Jimmy Vesey today informed NSH their client will be exercising his right to unrestricted free agency on Aug. 15. #TSN

— Bob McKenzie (@TSNBobMcKenzie) March 29, 2016
Vesey's right to go to free agency comes via a clause in the collective bargaining agreement as it pertains to college hockey prospects. A team has four years to sign a prospect they drafted so long as the player remains a college student. In Vesey's case, since he will graduate from Harvard, he has to wait until Aug. 15 before he can sign with teams others than the Preds.
This is a tough blow for the Predators as they lose a player that they spent an upper-round draft pick on, worked with over the last four years and offered an immediate roster spot. By extension, the Predators were also offering Vesey the chance to burn the first year off his entry-level contract and play in the playoffs, according to GM David Poile.
Poile: "Allow me to confirm that we offered Jimmy a spot in our top 6, playoff time and the chance to burn a year on his ELC." #Preds

— Thomas Willis (@TomAWillis) March 29, 2016
They were the only team that could offer that to the player and Vesey still said no.
Poile was obviously miffed by the whole thing and understandably so. Especially since the Predators stood pat ahead of the NHL trade deadline with plans on adding Vesey before the season ended and putting him in a prominent offensive role. And this is where things get a little bit uncomfortable.
Vesey told Paul Fenton prior to the Trade Deadline that he was going to sign with us. #Preds

— Thomas Willis (@TomAWillis) March 29, 2016
Something eventually changed. Poile told the assembled media Monday night that he expected to sign Vesey until Wednesday. When the Preds brass asked to meet with the player after his senior season ended in a 4-1 loss to Boston College in Worcester, Mass., at the NCAA Tournament Friday night, they were denied. 
The team then issued a public statement Saturday to provide an update on where things stood and that they were "hopeful" to get him signed.
Despite all of what has happened so far, Poile said he is not giving up on signing Vesey. They still have until Aug. 15 and remain eligible to be picked by Vesey after he finds out what other teams can offer him. By then, however, it's hard to imagine him ever signing with Nashville.
So the Preds are going to lose a top-end prospect who has developed into an NHL-ready player with immense scoring talent. Over the last two years, Vesey scored 56 goals for Harvard and 80 over his career. Serving as Harvard's captain this year, he had 46 points in 33 games, a bit off the pace he had in his fantastic junior season over which he scored 32 goals and had 48 points in 37 games.
Vesey also has won a gold medal at the World Junior Championship and was also invited to play for Team USA at the Men's World Championship last year where he won the bronze playing with and against NHL players.
Now he'll have a chance to pick where he wants to go, which is going to entice multiple players. He follows in the footsteps of such pros as Blake Wheeler, Kevin Hayes and Justin Schultz, who utilized this route to pick their NHL destination.
Speculation has been running wild on where Vesey will end up. His father Jim, who played 15 games in the NHL himself, is now a scout with the Toronto Maple Leafs. Vesey's younger brother Nolan is also a Toronto draft pick. Those familial connections and the fact that Toronto is a place where young players are valued quite a bit right now could make them a favorite. However, when you have options, there's no need to narrow down the list this early. He just turned down a probable top-six role on a team that is set up to make the playoffs this year and probably for the next several.
It's also important to note that this is not about money. No one can pay Vesey any more than the Predators could because the prospect is tied to the entry-level system, which maxes out his first contract at a base of $925,000, with bonuses added in. So every recruiting pitch will vary based on the kind of role a team can offer, if Vesey likes the city, if there's a style of play he prefers and whatever else he needs to figure things out. Because he's cheap, teams are going to do whatever they can to sweeten the pot to try to acquire him. This is the one free agent scenario where money is irrelevant. It all comes down to fit and opportunity.
As far as the Predators go, this is a really tough pill to swallow. Nashville, for whatever reason, has not been a destination that many big-time free agents pick to sign. It's a competitive disadvantage that requires them to draft well or get creative with trades (see Ryan Johansen for Seth Jones). But as Vesey shows, even when you draft really well – this particular player was plucked from the Eastern Junior Hockey League, which at the time was a lower-tier junior circuit – you can get burned.
The good news is that Nashville has been playing really, really well heading into the postseason. They're likely to play the Los Angeles Kings in the first-round, but over the last month they've shown they can hang with anybody.
They probably can get by without Vesey in the short term. In the long term, it hurts to lose a guy that would have been under team control for at least the next five years. Especially when that player's best attribute is something this team in particular never seems to have enough of as Vesey is a pure goal scorer.
In the end, Nashville will survive, but Poile has every right to be frustrated. They had a great pitch in place, a great situation and it still wasn't enough. They did everything they could on their end, but Vesey has the chance to do something very, very few players ever get at this stage in their career.