Report: What lockout? NHL expects $2.4 billion in revenue this season
Turns out the NHL lockout didn't hurt business too bad, after all. According to a report, the league expects to receive 72.7 percent of last season's revenue despite playing only 58.5 percent of the normal schedule.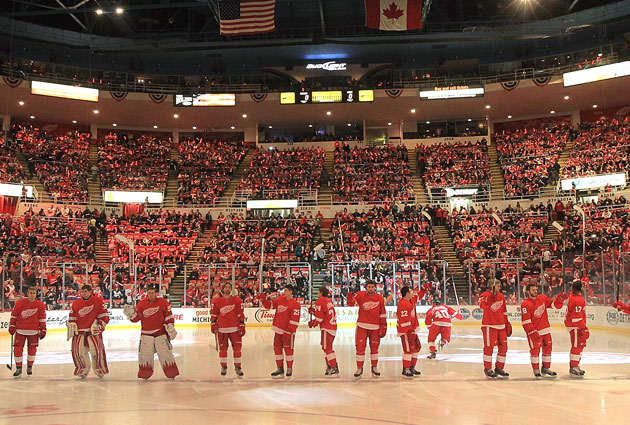 More NHL: Scores | Standings | Odds | Fight-O-Meter | League Leaders | Rumors
Months ago, when we were mired in the dregs of another long lockout and fan anger seemed to be at an all-time high, the idea of the NHL emerging in a better spot seemed crazy. It was just difficult to fathom with all the backlash that seemed to be starting already.
It's turning out the backlash was as real as an Ovechtrick because the NHL's hockey-related revenue (HRR) is going to be just fine for this short season.
According to Larry Brooks of the New York Post, the league recently informed the union about its projections for the HRR this season and, well, it's awfully strong for a league that missed almost half a season.
Slap Shots has learned the NHL recently informed the NHLPA the projected hockey-related revenue (HRR) for this truncated season will reach $2.4 billion, a staggering number with implications far beyond the obvious that the league essentially suffered no damage by locking out the players for more than three months.

Remember: HRR for 2011-12 hit a record $3.3 billion. That was for a 1,230-game regular-season, plus playoffs, preseason and special events -- including the Winter Classic and All-Star festivities.

This $2.4 billion projection is for a 720-game regular season plus the playoffs. Thus, the NHL expects to generate 72.7 percent of last year's revenue in 58.5 percent of the season -- and without the benefits reaped from the money-printing outdoor game.
That's just nuts. Brooks points out that if you drew out the projection for a full 82-game season, you're talking about $4.1 billion in HRR, almost a full billion more than the last season before the lockout. The extrapolation doesn't work completely as the early months are the slowest in terms of intake, but you can see that the numbers are still only going up.
I admit that I was naively pessimistic about how the fans would (or would not) return to the game in the same numbers as before the lockout and that any momentum the sport was gaining was going to be lost. I thought it would take some time to get fans back again. It's tough to keep treating them like dirt and watching them crawl back.
In other words, I could have believed there would have been nothing lost from the lockout, but these kind of gains? It's bewildering. And amazing all at the same time.
As a hockey fan, I'm thrilled to see the popularity of the game continues to go up. Television ratings are up. Arena attendance is up. It really is like there was no lockout.
This all begs the question from Brooks if the league should consider going to a shorter schedule permanently. He suggests 70 games per team starting in late October. While the logical person in me says it's a great idea, as there's no doubt the hockey season tends to drag on too long (seriously, the offseason is about 2 1/2 months long), the fan in me says you can't go to shorter seasons.
History is important, and so are the numbers. Players don't talk about them a lot, saying it's all about the team, but numbers matter. Look at how we watch hockey and are always comparing stats, remarking when players pass somebody else on the all-time lists. If you were to forever shorten seasons, then you're going to be missing a lot of that, a guy like Sidney Crosby will be cut short in his attempt to put his name as high as possible on the scoring list.
But back to the main topic at hand here: The NHL is still making great money. This is precisely why the cycle of lockouts won't end. The business people in the NHL are looking at this projection and seeing a massive percentage increase, so why won't they continue to try to bleed as much from the players knowing there will be no backlash from the fans? The pot for this year is only slightly diminished from last year's record-setting level. They can live with that.
This is overall great news for the league. More money equals a healthier game and presumably brighter future. But it also means you can start planning for another autumn without hockey in 2021, when the CBA could potentially expire (the players have an opt-out clause after eight seasons). After that, it would seem fans will come back in droves again with some buddies in tow.
For more hockey news, rumors and analysis, follow @EyeOnHockey and @StubitsCBS on Twitter, subscribe to our YouTube account and like us on Facebook.
The NHL says it's only interested in expanding to Seattle, but here's a look at all the moving...

The NHL says it is only looking toward Seattle for the next expansion team

The 33-year-old defenseman hopes to help find a cure for serious head injuries in athletes
Chicago becomes the latest NHL club to earn an evaluation of $1 billion or more

The city council has approved a $600 million redevelopment project for KeyArena

Arvidsson took off his glove to reveal an engagement ring for one lucky fan