Report: Winter Classic generated profit of $20 million for NHL
The Winter Classic was a huge hit. The NHL reportedly generated $30 million in revenue and after expenses, that's a profit of $20 million. From one game.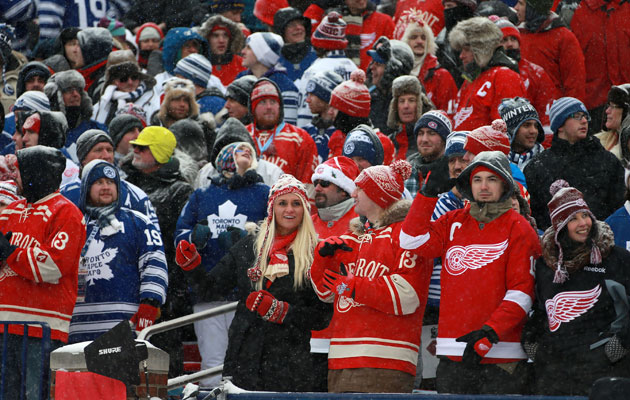 More NHL: Scores | Standings | League Leaders | Odds | Injuries | Power Rankings
Is there any outdoor game fatigue setting in? The answer from the 2014 Winter Classic is a resounding no.
A record crowd was on hand to watch the game with more than 105,000 fans announced for the attendance and with all of those tickets going for a pretty penny. Add in all of the merchandise that was being gobbled up in a day to celebrate hockey and the NHL made out like a bandit from the game at Michigan Stadium between the Red Wings and Maple Leafs.
How much exactly did they NHL make from the game? Sports Business Daily has the numbers.
According to an NHL source, the Jan. 1 game at Michigan Stadium posted more than $30 million in revenue against costs of $10 million. Approximately two-thirds of the revenue was derived from ticket sales, with 105,491 fans paying an average ticket price of $186 for an estimated take of $19.6 million. An additional $10 million in revenue came from retail and advertising sales.

A specific breakdown of those categories was unavailable.

As a point of comparison for those numbers: The previous Winter Classic, the 2012 edition at Citizens Bank Park in Philadelphia, is believed to have made $15 million in revenue against costs of $10 million. Additionally, considering the $30 million in revenue from this year's Winter Classic: That compares to a typical regular-season game for the NHL's most successful teams -- including Toronto, Chicago, Montreal and the New York Rangers -- bringing in between $2 million and $3 million.
So in total we're talking about one regular season game producing a profit in excess of $20 million. The Red Wings get a share of that money to offset the costs and all the rest goes to the Hockey Related Revenue pile. No wonder the league forecasted such a large jump in next season's salary cap.
Aside from maybe too much snow, there was absolutely nothing that the NHL could complain about over the most successful Winter Classic to date in more ways than just financially. With returns like that, it's easy to see why the NHL has outdoor fever.
It's going to be tough to replicate numbers like the game at the Big House but maybe some day the long-awaited game at Penn State's Beaver Stadium, with a capacity exceeding 107,000, could give it a run.
After missing the Stanley Cup playoffs with a herniated disk, Letang is working on his foo...

The 38-year-old defenseman had been on the free agent market since July 1

New York fans aren't too happy about it, either
The league is not backing down, but players aren't hiding their frustrations, either

Draisaitl remains unsigned as Edmonton's premier restricted free agent

Yes, it is as perplexing as it sounds