Reports: Bruins closing in on deals for Tuukka Rask, Patrice Bergeron
The Boston Bruins are reportedly close to signing two of their best players -- Tuukka Rask and Patrice Bergeron -- to long-term contract extensions.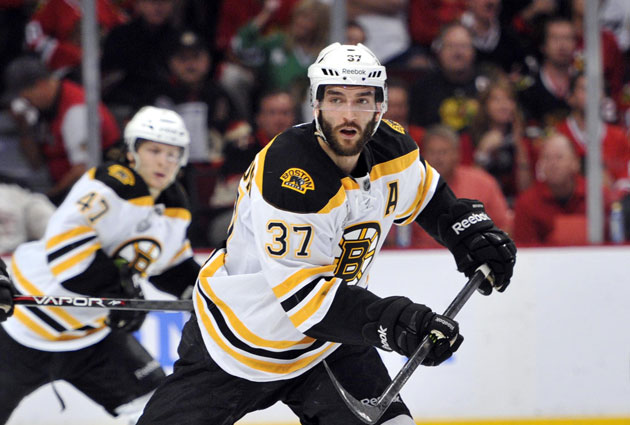 More NHL offseason: Rumors | Top 50 Free Agents | Top 50 Prospects | Mock Draft
The Boston Bruins appear to be closing in on long-term contract extensions for two of their most important players, center Patrice Bergeron and goaltender Tuukka Rask.
And they're both going to be huge contracts.
According to CBC's Elliotte Friedman, Rask's contract is expected to be in the neighborhood of $56 million over eight years, while ESPN's Pierre LeBrun reports Bergeron's deal could be worth between $52 million and $54 million over eight years.
Rask is eligible for restricted free agency this summer, while Bergeron still has one year remaining on his current deal.
Let's start with Rask. If that turns out to be his contract, that would be a cap hit of $7 million per year. That would tie him with Nashville's Pekka Rinne for the largest cap hit in the NHL. Los Angeles' Jonathan Quick would make more in actual salary over the next eight years but would have a smaller cap hit due to him signing his contract under the old CBA with the Kings tacking on a couple of smaller years on the end to reduce the cap hit.
Rask doesn't have a huge track record as a starter. But during his time, he has been one of the best goalies in the league. Still, an eight-year contract for a goalie is a pretty risky move given how unpredictable the position can be.
When it comes to Bergeron, he might be the best overall player on the team. He became a household name for playing Game 6 of the Stanley Cup Final with countless (and significant) injuries. He's one of the best two-way forwards in the NHL, combining great skill and offensive ability with shutdown defensive play. He consistently goes up against the other team's best players and almost always manages to outplay them.
Though he's already a nine-year NHL veteran, he's only 27 years old so he should have plenty of productive years ahead of him.
Los Angeles isn't rushing to sign the 45-year-old forward any time soon

The University of Denver star and Hobey Baker Award winner is drawing interest

Intrigue is high in Arizona after a wild offseason, but expectations should still be tempe...
Players are set to give personalized messages for Adidas' former hockey equipment brand

The 40-year-old center is returning to the Wild after a successful run in Pittsburgh

Edmonton locks up its 21-year-old RFA a month after McDavid's historic extension