Reports: Florida Panthers on verge of being sold
The Florida Panthers are reportedly going to be sold again as a deal appears 'imminent' with a New York-area investor.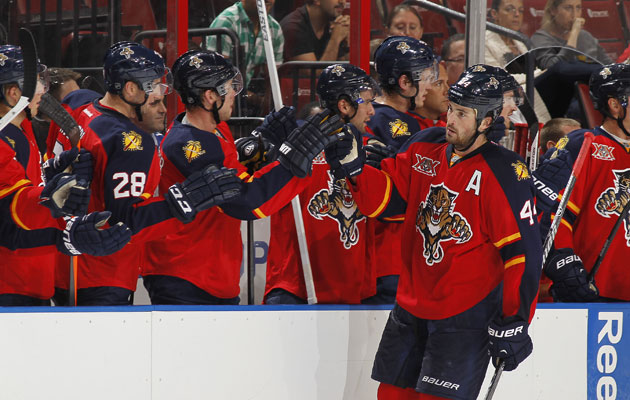 More NHL offseason: Rumors | Top 50 Free Agents | Buyout Tracker | Trades | Transactions
In the not too distant past the NHL has seen new owners take over in Dallas, St. Louis, Phoenix and New Jersey, the last two coming just this summer. There could be another franchise joining the mix; the Florida Panthers.
Josh Kosman of the New York Post reports that the team is on the verge of being sold to a New York-area investor, a report that was seconded by John Shannon of Sportsnet. South Florida radio host Andy Slater says the new owner will be former Nets minority owner Vincent Viola. So there's a lot of smoke here.
While Panthers beat writer George Richards of the Miami Herald said he's not hearing a deal is imminent, he didn't shoot down the reports either.
Source with #FlaPanthers says no announcement regarding sale is imminent, doesn't mean things aren't in works re @nypost story today

— George Richards (@GeorgeRichards) September 18, 2013
The Panthers are currently owned by South Florida businessman Cliff Viner, who purchased the franchise in 2009. The move was heralded locally as Viner was also a Panthers fan before buying the team but now just four years later, ownership is apparently being transferred.
The South Florida franchise has had more than its share of struggles on the ice and playing in an already fickle market for sports attendance, at the box office as well. The assumption is that as a whole the Panthers are a money-losing venture. While that is true on the hockey side of things, most believe it's a profitable venture by virtue of the Panthers being part of a larger company that also has rights to concerts and other events at the BB&T Center.
Some will immediately wonder if this means the Panthers are at risk to move but I wouldn't expect that to be the case. As mentioned above, the enterprise as a whole is not believed to be a losing effort, though it is slightly curious why ownership is changing hands once again. The rose-colored glasses take would be that a new owner would continue to provide stability while stepping up the investment to help turn the franchise's forturnes around but at this point nobody knows (and given the Panthers' history, it wouldn't be something to expect).
The Panthers are celebrating their 20th anniversary this season, one in which expectations are not high after they finished with the worst record in the league last season.
J.T. Brown, who raised his fist during the national anthem, meets with Tampa Police Depart...

The decision would likely be met by anger from some fans, but it could also make sense

Toronto shoots to the No. 1 spot, just ahead of the Chicago Blackhawks
The Penguins' standout is at it again

Gary Bettman all but reverses course from his September comments on anthem demonstrations

The 'Washington Post' says many teams have stopped booking stays at Trump-owned properties