Reports: KHL teams to target Alex Ovechkin in case of lockout
Contingency plans continue to be set up in case of a lockout. The latest is the GM of Dynamo Moscow preparing to woo Alex Ovechkin.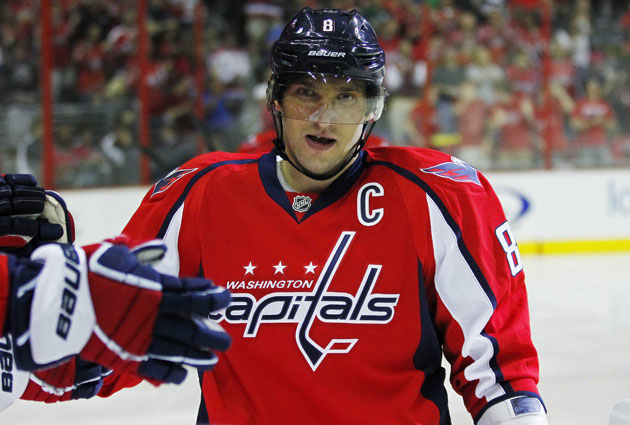 Ovechkin had 13 goals, 13 assists in 37 games for Dynamo Moscow in 2004-05. (US Presswire)
The threat of a lockout looms greater every day, so plans continue to be made for a season without the NHL. Of course that means players looking to keep the pay checks flowing will have to head to Europe. Those leagues know that.
The Swedish Elite League will not be welcoming NHL players on a short-term basis, requiring one-year commitments. The KHL, though, isn't going to be taking the same stance. Teams like Dynamo Moscow are already preparing for the NHL's lockout and targeting players like Alex Ovechkin.
"We will talk with Ovechkin. It will be up to the head coach," Dynamo Moscow GM Andrey Safronov told RIA Novosti (courtesy of the Washington Post).
Dynamo Moscow would be the same KHL team that Ovechkin played for in the past so it would make perfect sense they would try and bring the Capitals captain back for another season. He spent the last lockout playing with Dynamo as well, the season immediately after the Caps took him No. 1 overall in the 2004 draft.
While the GM and coach (maybe) would be onboard with the idea, it doesn't matter if Ovechkin isn't. Clearly he has to want to go back to Dynamo, too. If we're in a situation where a lockout doesn't seem like it will be long, you might have some players who are hesitant to play elsewhere.
Update: Turns out Dynamo won't be going after Ovechkin, according to Pavel Lysenkov, maybe the coach said no. That doesn't mean that the KHL is out of the equation, though.
Big surprise for me - Dynamo is not going to sign Ovechkin after lockout. It`s like Pens says no to Crosby. #surprise

— Pavel Lysenkov (@plysenkov) August 26, 2012
My guess - Ovechkin will play for CSKA there Fedorov is GM. Together with Semin.

— Pavel Lysenkov (@plysenkov) August 26, 2012
Regardless, the players have to think of life with a lockout, something they aren't hesitant to ponder.
"Look, the players aren't afraid of a lockout, let me start with that," union head Don Fehr said. "You'd have to have had your head in the sand not to remember what happened seven years ago, and not to understand what happened with football and basketball. Everybody understands what can happen."
Point is the players will have decisions to make on what to do this Fall/winter. At least Ovechkin would appear to have a backup plan in place should it come to that. The question is if he would have to take it.
For more hockey news, rumors and analysis, follow @EyeOnHockey and @StubitsCBS on Twitter and like us on Facebook.
The expansion Golden Knights officially moved into first place in the NHL on Sunday

The former Boston Bruin was the first black player to play in the NHL

Inclement weather led to the Charlotte Checkers and Bridgeport Sound Tigers playing in front...
The NHL chose the Detroit rocker as its All-Star Game entertainment and not everyone is th...

NHL fans from all over seem to agree on one thing: Hating Kid Rock

The team tweeted on Monday that Shaw would be re-evaluated in 7-10 days