Reports: Leafs reach out to Brendan Shanahan about front-office role
Might big changes be coming to the Maple Leafs? According to reports, MLSE reached out to Brendan Shanahan about a role in their front office.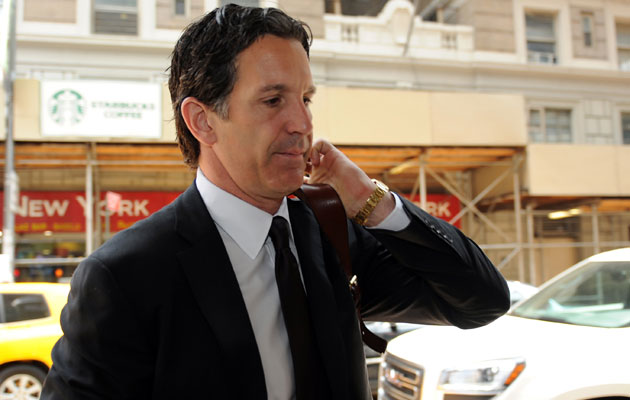 More NHL: Trades | Scores | Standings | League Leaders | Odds  | Power Rankings
The Toronto Maple Leafs haven't even been out of playoff contention for 24 hours and already there are potenailly big changes in the works.
A collapse like the Leafs suffered this season is not something that goes by unnoticed and in the specific case of the Leafs, it seemed to illuminate the issues that have been a problem the past few seasons for Toronto; that they are not playing a style of hockey that's conducive to winning.
It could lead to some big changes in Maple Leafs headquarters as Maple Leaf Sports and Entertainment reportedly has its eyes on none other than Brendan Shanahan, the NHL's discipline chief.
Source confirms #Leafs CEO Tim Leiweke interest in Brendan Shanahan in a potential role with hockey club. More 2nite on @Sportsnet Connected

— Nick Kypreos (@RealKyper) April 9, 2014
Confirming that MLSE prez Tim Leiweke has contacted @NHLShanahan for top hockey ops position with Maple Leafs.

— Bob McKenzie (@TSNBobMcKenzie) April 9, 2014
This wouldn't be the first time somebody moved on from the head of discipline to a front-office role with a team, Brian Burke made that transition when he became the GM in Vancouver.
If the Leafs are reaching out to Shanahan -- and Kypreos and McKenzie are two pretty reliable sources -- that can't be good news for Dave Nonis or the rest of the Leafs staff all the way down to coach Randy Carlyle.
Shanahan didn't play for the Maple Leafs in his career but he is a native of the Toronto area and has perhaps a greater resume for such a role than recent hires around the league such as Joe Sakic in Colorado and Trevor Linden in Vancouver.
Former Lightning standout will be guarding the net in style in 2017-18

Devils are still in rebuilding mode, but they have reason for hope thanks to young additio...

Buffalo is in the midst of contract extension talks with Jack Eichel, and the payout could...
Los Angeles isn't rushing to sign the 45-year-old forward any time soon

The University of Denver star and Hobey Baker Award winner is drawing interest

Intrigue is high in Arizona after a wild offseason, but expectations should still be tempe...