Reports: NHL has Plan B for Coyotes involving Seattle, Jeremy Roenick
As the Coyotes near an apparent deadline to reach a deal to stay in Arizona, the NHL reportedly has a backup plan with a move to Seattle.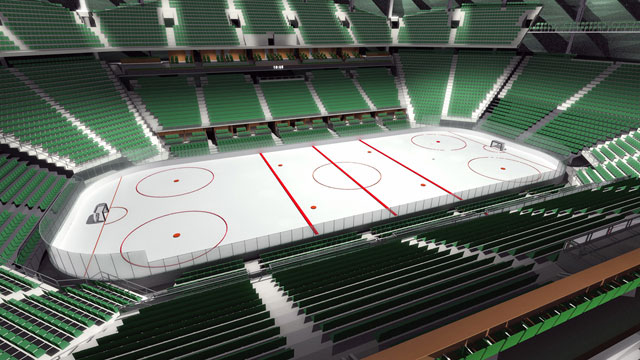 More NHL Playoffs: Scores | TV Schedule | Expert Picks | Odds | Mock Draft | Rumors
Some day it will happen. There will be a resolution one way or the other in the Phoenix Coyotes saga. From indications at Gary Bettman's annual state of the union before Game 1 of the Cup, it seemed like that day is much closer than farther away at this point.
That's because Seattle is back in the picture as an honest threat, according to Hockey Night in Canada.
Bettman and his deputy commissioner Bill Daly would not make any guarantees the team will remain in Arizona next season, saying that one of the delays in next season's schedule is based on the Coyotes' uncertain future.
With an upcoming vote in Glendale to decide if the city will give $15 million annually to the Renaissance Sports & Entertainment group that is trying to finalize a purchase of the team to keep it in town -- where the talks stand now (via Fox Sports Arizona's Craig Morgan) -- it seemed like perhaps it was politicking, trying to get the new potential owners a little more support to try to get the measure passed.
But there might have been a shred of truth to it as well.
According to Elliotte Friedman and Glenn Healy of the CBC (video link here) on Saturday night, the NHL does have a Plan B at the moment, and it could come to fruition rather suddenly. If a deal is not reached with Glendale and RSE at the June 25 council meeting in Glendale, the Coyotes could finally be on the move. To Seattle.
According to Friedman and Healy, the Canucks had looked into moving their AHL franchise to Key Arena in Seattle, only to be rebuked. That's apparently because the NHL has a new investment team of Ray Bartoszek and Anthony Lanza ready to buy the team, and well above the asking price at $220 million. They would try to get a deal done with Glendale but if it didn't happen by July 2 -- which obviously isn't a lot of time -- then the team would move immediately to Seattle.
Then on Sunday, intrepid Seattle reporter Chris Daniels, who has been on top of the Seattle arena story from the beginning, confirmed that the NHL has talked with investors and representatives from Seattle.
BREAKING: Seattle Mayor Mike McGinn acknowledges recent discussions with NHL Commissioner Gary Bettman

— Chris Daniels (@ChrisDaniels5) June 16, 2013
BREAKING: NHL investors also met with Seattle City Council members.

— Chris Daniels (@ChrisDaniels5) June 16, 2013
What's more is that if that Plan B were to play out, Jeremy Roenick would reportedly be involved in the process, specifically in the Hockey Ops department for the new team in Seattle. That would be interesting, now wouldn't it, especially since Roenick has been open about how much he enjoyed playing in Arizona.
Key Arena in Seattle is hardly ideal for hockey. It's a relatively old venue that has very poor site lines for the sport. You can see the seating chart here, an awkward layout to be sure. But Mayor McGinn said they believe Key Arena could sustain NHL hockey. In other words it wouldn't be perfect but it could work.
It would be a short-term home, or that's the hope. Seattle native Chris Hansen has been leading an effort to build a new arena, but it hinges on getting an NBA team back in the market, and after they failed to land the NBA's Kings from Sacramento, that is an uncertain prospect. It's not clear if the arena would go forward with just an NHL team, but if it did it would cost the city of Seattle more.
Round and round she goes, and where this stops, nobody knows. But we should finally have a conclusion in the coming weeks. Stop me if you have heard that one before.
This will not leave your memory any time soon

Vegas isn't being quiet about its hot start to the NHL preseason

The blue-liners are set for another big push, but Edmonton's rise is hard to ignore in the...
Meanwhile, the Devils' Brian Boyle isn't sweating his recent cancer diagnosis

Limited-time Warriors-colored jerseys are apparently on the way in January

The 32-year-old forward tells the media he expects to be back on the ice for the Devils op...