Rich Peverley collapses on bench, Stars-Blue Jackets postponed
Stars forward Rich Peverley had to be attended to by medical staff in the first period on Monday after showing signs of distress on the bench.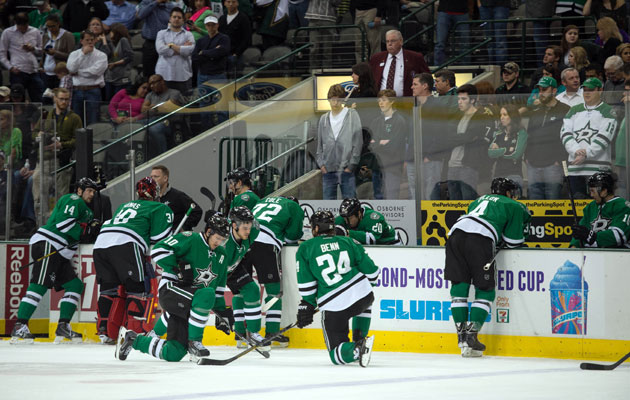 More NHL: Trades | Scores | Standings | League Leaders | Odds  | Power Rankings
The Dallas Stars and Columbus Blue Jackets game was postponed on Monday night after Stars forward Rich Peverley collapsed on the bench during the game. Peverley was taken to the hospital and is in stable condition, according to the NHL.
Peverley, who missed time early this season with an irregular heartbeat, was taken down the tunnel just a few minutes into the game by the Stars staff. With play going on the ice, the Stars bench went into a frenzy as players screamed for help and for play to stop. Immediately, the medical staff was on the scene and rushing Peverley down the tunnel.
The PA announcer informed the crowd that Peverley was taken to the hospital and that he is conscious, which is about as good of news as one could hope for in this situation. Absolutely eerie scene at American Airlines Center.
The Stars gave more updates on Peverley's condition and it was indeed an issue with his heart.
"We treated [peverley] for a cardiac event successfully." -Dr. Gil Salazar

— Dallas Stars (@DallasStars) March 11, 2014
Per Dr. Salazar, Peverley was aware of where he was when became conscious and wanted to get back in to the game.

— Dallas Stars (@DallasStars) March 11, 2014
Hockey players, sheesh.
The NHL released the following statement later Monday night:
"Dallas player Rich Peverley is doing well and is in stable condition. He has been transported to the hospital. As a result of the emotional state of the players on both teams caused by the medical emergency, the game is being postponed. We apologize for any inconvenience and we thank the fans."
Here is video of the scene when game was halted. It's absolutely chilling, though is easier to watch knowing that Peverley was conscious on his way to the hospital. Let's take this moment to praise the work of the medical staff on hand which acted as swiftly as possible.
After some time, the game was officially postponed and will be made up at a later date, the only decision that could be made in a spot like this. The Blue Jackets led the game 1-0 with 13:37 remaining in the first period.
The decision would likely be met by anger from some fans, but it could also make sense

Toronto shoots to the No. 1 spot, just ahead of the Chicago Blackhawks

The Penguins' standout is at it again
Gary Bettman all but reverses course from his September comments on anthem demonstrations

The 'Washington Post' says many teams have stopped booking stays at Trump-owned properties

New Jersey has the long-term promise; Vegas is nothing like an expansion pushover