Rick DiPietro released from pro tryout with AHL Charlotte
Rick DiPietro's short sting in Charlotte has come to an end. The goaltender informed the Checkers he didn't think things were working out and was released from his tryout.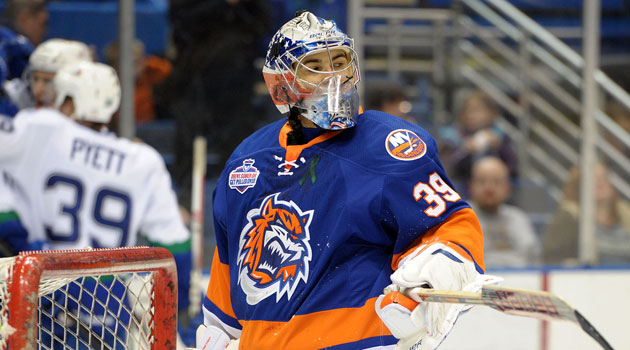 More NHL: Scores | Standings | League Leaders | Odds | Injuries | Power Rankings
Rick DiPietro's second chance with the AHL Charlotte Checkers wasn't going so well and on Tuesday it came to an end.
The former first overall draft by the New York Islanders who had his mammoth contract bought out this summer, signed on with the Hurricanes' AHL affiliate earlier this season in a professional tryout. On Tuesday morning, after one month, DiPietro was released from his PTO, at his own request.
"He called Jim Rutherford last night and thanked him for the opportunity," Checkers coach Jeff Daniels said. "He just didn't think it was going to go anywhere.
"I talked to him last week and said right now we have three goalies here and we're waiting for one of them to step up and be the guy. The opportunity was there for him to do that, but he didn't feel that it was going to go his way."
If he didn't think it was going to go his way perhaps it's because the entire tryout was a struggle for DiPietro. He had tough times in the NHL but never quite as rough as his short sting with the Checkers was.
He posted an 0-4-0 record with an eye-popping .846 save percentage and 5.18 goals against average. That's eye-popping in a very, very bad way.
After a showing like that at the NHL level, it's a fair question to wonder if DiPietro will get another chance again. He's already 32 years of age which certainly isn't too old but he's not a spring chicken anymore and his age might give other teams pause that he can turn it around.
In addition to struggling in games, DiPietro dealt with myriad injuries over the years. From 2008-09 through 2012-13, he played only 50 games, compared to the 63 games he appeared in in 2007-08 alone.
The 45-year-old free agent is taking things patiently as September approaches

The playoff drought might not end immediately, but something is brewing in restocked Buffa...

Former Lightning standout will be guarding the net in style in 2017-18
Devils are still in rebuilding mode, but they have reason for hope thanks to young additio...

Buffalo is in the midst of contract extension talks with Jack Eichel, and the payout could...

Los Angeles isn't rushing to sign the 45-year-old forward any time soon