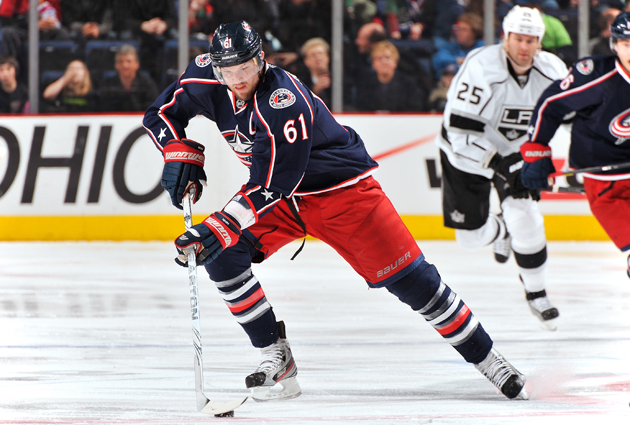 Rick Nash had 30 goals and 29 assists for the Jackets last season. (Getty Images)
Columbus Blue Jackets captain Rick Nash has been traded to the New York Rangers. The deal was first reported by Darren Dreger of TSN before being announced by the clubs on Monday afternoon.
As far as the return to Columbus? The Jackets will receive Artem Anisimov, Brandon Dubinsky, Tim Erixon and a first-round draft pick.
"Just think it was a deal we couldn't turn down," Rangers general manager Glen Sather said on Monday. "This type of player doesn't become available very often. This is a very important deal for our hockey club."
Aaron Portzline of the Columbus Dispatch reports that a minor-league defenseman and a third-round pick are also headed to the Rangers, the defenseman likely to get under the 50 contract limit.
The long and arduous process seems to be over. Nash, who requested a trade out of Columbus at the beginning of the year, is finally headed out of town. Columbus GM Scott Howson had been given a list of teams to whom Nash would accept a trade and the Rangers were always reported to be on that list.
"Today's trade brings us the right balance we were seeking in any trade for Rick," Howson said after the deal.
Rick Nash traded
More NHL coverage
The Rangers and Jackets had reportedly been in talks for a long time and it seemed that a deal between the two was going to be struck in February before Sather refused to meet the very high demands from Howson. Among the many rumors that were circling, the names of Derek Stepan, Ryan McDonagh and Chris Kreider were being mentioned among others. After those overtures were turned down the talks between the Rangers and the Jackets seemed to end, opening up the possibilities for a few other teams on Nash's wish list.
"We've gone through a number of discussions with the Rangers," Howson said Monday. "It had its ebbs and flows. It really picked up over the last week or so.
"We've been at this a while. It's part of the job. Rick's been a great player, but we're real excited about where we're going."
Nash, a former No. 1 overall pick by the Blue Jackets in 2002, has obviously spent his entire career thus far with the Blue Jackets, reaching the postseason just once. Still, he seemed to be a lifer with the Jackets thanks to a contract that runs for another six seasons at $7.8 million per season. But he had a change of heart last season and asked for his ticket out of a downtrodden franchise.
Now that heavy contract goes to New York where it will fit right in along side the hefty deals for Marian Gaborik and Brad Richards among the forwards. The hope is that they will all be able to come together and give the Rangers that offensive boost they have been looking for. With almost $21 million tied up in just those three players, the Rangers need it to be a good fit.
Nash brings plenty of scoring punch, and that's been playing with some less-than-stellar linemates over the years. He has scored at least 30 goals in all but one season since his rookie campaign, including 30 on the nose last season for the worst team in hockey. There is little doubting his ability to score and it will be interesting to see if that can increase playing around some really skilled teammates with the Rangers.
New York has been getting closer and closer in year's past of making a deep run in the playoffs. This past season they reached the Eastern Conference finals against the Devils before bowing out in six games. All along they have been trying to find enough offense to help out Henrik Lundqvist in net behind them. That's why Gaborik and Richards were each brought in on expensive deals. With the room to add another, Sather will gladly welcome aboard another guy who can put the puck in the net.
The rather amazing thing is that after all that Howson had been asking for, the return price doesn't seem to be that high. The biggest name of the bunch is Brandon Dubinsky, whose career took a big step back last season with just 10 goals and 24 assists. Before that, though, his career appeared to be headed in a great direction as he scored 24 goals two seasons ago for the Rangers. The question is which season is more indicative of the player Dubinsky can be down the road.
Then you have Artem Anisimov, another young forward with some potential but who is just as known for his gun-shooting celebration this past season as much as anything. The 24-year-old had 16 goals with 20 assists last season in 79 games. He put up similar but slightly better numbers the season before with 18 goals and 26 assists.
The deal also included Tim Erixon, a promising young defenseman who had yet to crack the Rangers blue line corps on a regular basis. There is certainly potential for him to be a solid NHL defenseman and now he will at least be given a chance to prove it, probably right away in Columbus. Erixon worked hard to get to New York last summer from the Flames but is out before he ever really got the chance to put on the blueshirt.
As for the first-round pick? Well considering the Rangers figure to be a pretty good club to say the least, it should be a low-round pick and probably not all that valuable.
For more hockey news, rumors and analysis, follow @EyeOnHockey and @StubitsCBS on Twitter and like us on Facebook.