Roberto Luongo folds on fourth day at World Series of Poker, wins more than $19,000
Roberto Luongo lasted into the fourth day at the World Series of Poker before being eliminated on Friday in 634th place. As a result he won more than $19,000 and talked to a Panthers fan in the process.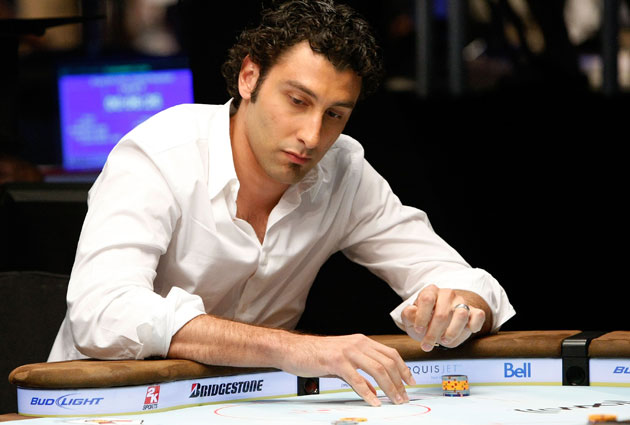 Roberto Luongo at an NHL charity poker event in 2009. (Getty Images)
Roberto Luongo is in the midst of a ton of rumors and speculation these days as he is on his way out of Vancouver. So one way he decided to avoid the talk for a little bit was to play his other gaming love ... poker.
Luongo had his entry into the World Series of Poker covered by the B.C. Lottery and it was a good bet for Luongo. The former Vezina finalist won't be a finalist in the World Series and thus miss some time next season, but he did make it four days deep and survived long enough to get some of the purse.
The Vancouver Sun has a bit more on the details.
Luongo was one of the 665 lucky ones who survived to finish in the money, but he was knocked out in 634th place Friday afternoon when his pocket 4s were beaten. Luongo earned $19,227 from the $10,000 buy-in tournament.

A field of 6,598 players began play last weekend.

Luongo began play on Friday with 92,000 chips, but doubled up early in the day when his Ace-Queen hand beat a competitor's pocket 7s after a Queen was flopped.

Luongo's brother Fabio will also finish in the money. He made the cut comfortably with 360,000 chips.
That's a heck of a showing for a guy who doesn't play professionally.
Luongo has been open before about his love for playing poker and was thrilled to get the chance to compete at the World Series. In the end he still made some money -- all of which he can pocket -- and got to experience the thrill of playing for a few days. He can leave Las Vegas proud of that showing -- getting your money back (well, B.C.'s money back) and more is always a good day at the casino in my book.
But Ted Starkey points out that's just peanuts to Luongo -- free peanuts, but peanuts nonetheless.
Roberto Luongo earned just north of $19K at the World Series of Poker. Under his current NHL deal, he earns that in less than one period.

— Ted Starkey (@TedStarkey) July 13, 2012
The Luongo family success now lies on brother Fabio who is still keeping his head well above water.
Anybody who has played poker before knows that they do more than just play at the table. There is plenty of time for chatter among the players as well and a guy like Luongo is going to draw a little more interest from players who might just be hockey fans. You get interactions like this one courtesy of Bluff Magazine.
"You played for my hometown team," said [Kamran] Siddiqui, who is from Miami.

"Who's that?" asked Luongo.

"The Florida Panthers," answered Siddiqui.

"Oh yeah, I might be going back there," said Luongo, while smiling.

"Yeah?" asked Siddiqui.

"Might be," replied Luongo.
Not terribly earth-shattering to hear him admit that, afterall he has said it in a radio interview too, but he's obviously keen on the idea of going back to Florida if he's talking about the possibilities with other poker players.
Either that or it was a great bluff.
More from Eye on Hockey
Luongo: 'It's time to move on'
For more hockey news, rumors and analysis, follow @EyeOnHockey and @BrianStubitsNHL on Twitter and like us on Facebook.
The expansion Golden Knights officially moved into first place in the NHL on Sunday

The former Boston Bruin was the first black player to play in the NHL

Inclement weather led to the Charlotte Checkers and Bridgeport Sound Tigers playing in front...
The NHL chose the Detroit rocker as its All-Star Game entertainment and not everyone is th...

NHL fans from all over seem to agree on one thing: Hating Kid Rock

The team tweeted on Monday that Shaw would be re-evaluated in 7-10 days